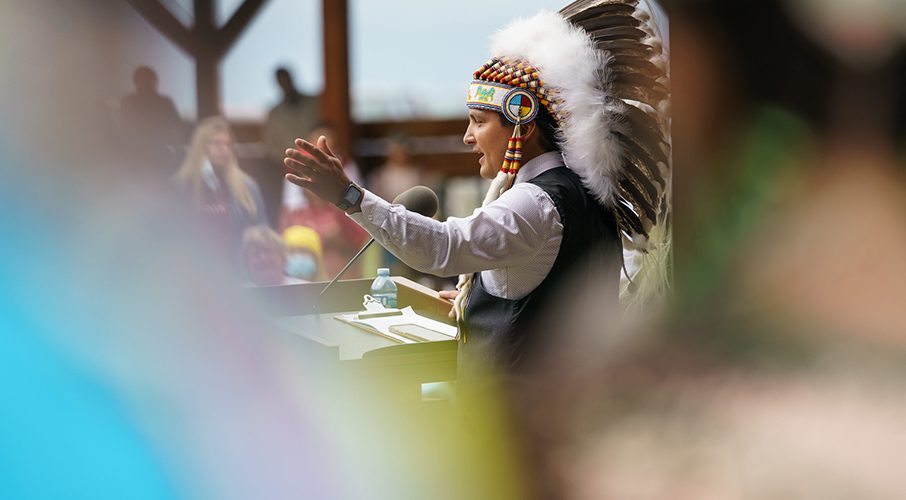 This article originally appeared in The Hub.
By Melissa Mbarki, August 19, 2022
The Indian Act is the federal government's primary law to administer Indian status, local First Nations governments and the management of reserve land. It is important to understand who falls under the Indian Act, as it does not reference non-status First Nation people, Métis or Inuit. Personal experiences provide invaluable insights into the challenges of Indigenous peoples trying to navigate the complexities of reserve (band) governance.
I am a status Indian as defined by the Indian Act. Shortly after birth, children are registered with the First Nation of one or both parents. Families can choose to live on or off reserve but this does not change the original registration. A person (status Indian) can transfer formally to another reserve; this happens commonly through marriage.
When my reserve holds its elections, I can vote for the chief and councillors, but only on the reserve where I am registered. We hold elections every two to four years and go through a formal nomination and voting process. The elected chief and council are responsible for making decisions on behalf of its members.
This is clearly outlined through Indigenous Services Canada regulations. There is no grey area about who is responsible for the decision-making and sign-off on projects in our communities. To demonstrate community consensus on key matters, we typically go through a ratification vote, which has to be a majority for a "yes."
In many First Nations, leadership (traditional, hereditary, elders) is intertwined within the standard democratic system. Well-functioning reserves incorporate all levels of leadership and strike a balance internally. Elders and hereditary chiefs often function in advisory capacities. Legally, responsibility and authority rests on the elected chief and council.
Chief and council may hire an external manager for their finances. They may create a corporation to handle on/off reserve business transactions. Whoever they appoint to manage these transactions lacks the legal authority to bypass our elected officials.
People can argue that some transactions are off reserve and therefore managed individually or by a board that does not include chief and council. Communities can have different models of decision-making but if the revenue is going to the reserve, the members collectively have ultimate control over the use of the funds. As much as individuals may want to be legally distinct from the reserve, they are not in terms of collective assets, resources, and rights.
In recent years, disgruntled individuals have separated themselves from their reserves, suggesting publicly that they are speaking for a community, despite not being registered with the First Nations. If they purchased land off reserve or are managing their own company, they are clearly individual owners and can do with the land and money as they please. Only individuals who were elected have the legal right to speak on behalf of the community, which is a legal and cultural reality that many self-appointed spokespeople have ignored.
First Nations also have external structures, like the Assembly of First Nation (AFN). Each of the more than 630 elected chiefs are represented by this lobbying group. Only the elected chiefs can vote on AFN policies and initiatives that have a direct impact on community members. Individually, I have no say on what the AFN decides or even on the election on the National Chief of the AFN.
Indigenous peoples have to consider changes to this model of governance. Instead of a national organization that struggles to respond to Indigenous diversity, would regional, provincial or territorial offices be a better option? We come from different cultures and people. The issues we have in Alberta are not the same as Ontario or Labrador. People tend to forget that we are not a single First Nation when it comes to determining the priorities for our communities.
This becomes a major problem in areas such as natural resource development. The federal government has a habit of hand picking their negotiating partners. We use a democratic process, imposed on us by the Indian Act, and then the federal government unilaterally chooses not respect it. This is offensive in the extreme, as it marginalizes our elected leaders and ignores the wishes of the community.
When governments work directly with hereditary chiefs, as they have repeatedly done with the Wet'suwet'en in the Coastal GasLink pipeline debates, they are politically slapping entire communities while ignoring federal rules. I equate this to a leader of another country coming to Canada and negotiating with their friends living here rather than the prime minister or his ministers.
First Nations must go back to basics when it comes to our governance structures. Some Indigenous groups have used modern treaties and self-government agreements to re-establish traditional governance systems, joining the growing group of communities that have thrown off the cloak of the Indian Act. Many communities have effectively integrated traditional governance and Indian Act electoral processes, strengthening the First Nation in the process.
For some communities, democratic systems are no longer the answer. In many cases, decades of government oppression have destroyed our traditions and teachings have been lost. We have evolved and changed. Our governance systems must adapt to our local realities. Doing what is fair, and including all Indigenous voices, must remain the priority.
Melissa Mbarki is policy analyst and outreach coordinator for the Indigenous affairs program at the Macdonald-Laurier Institute, and a member of the Treaty 4 nation in Saskatchewan.