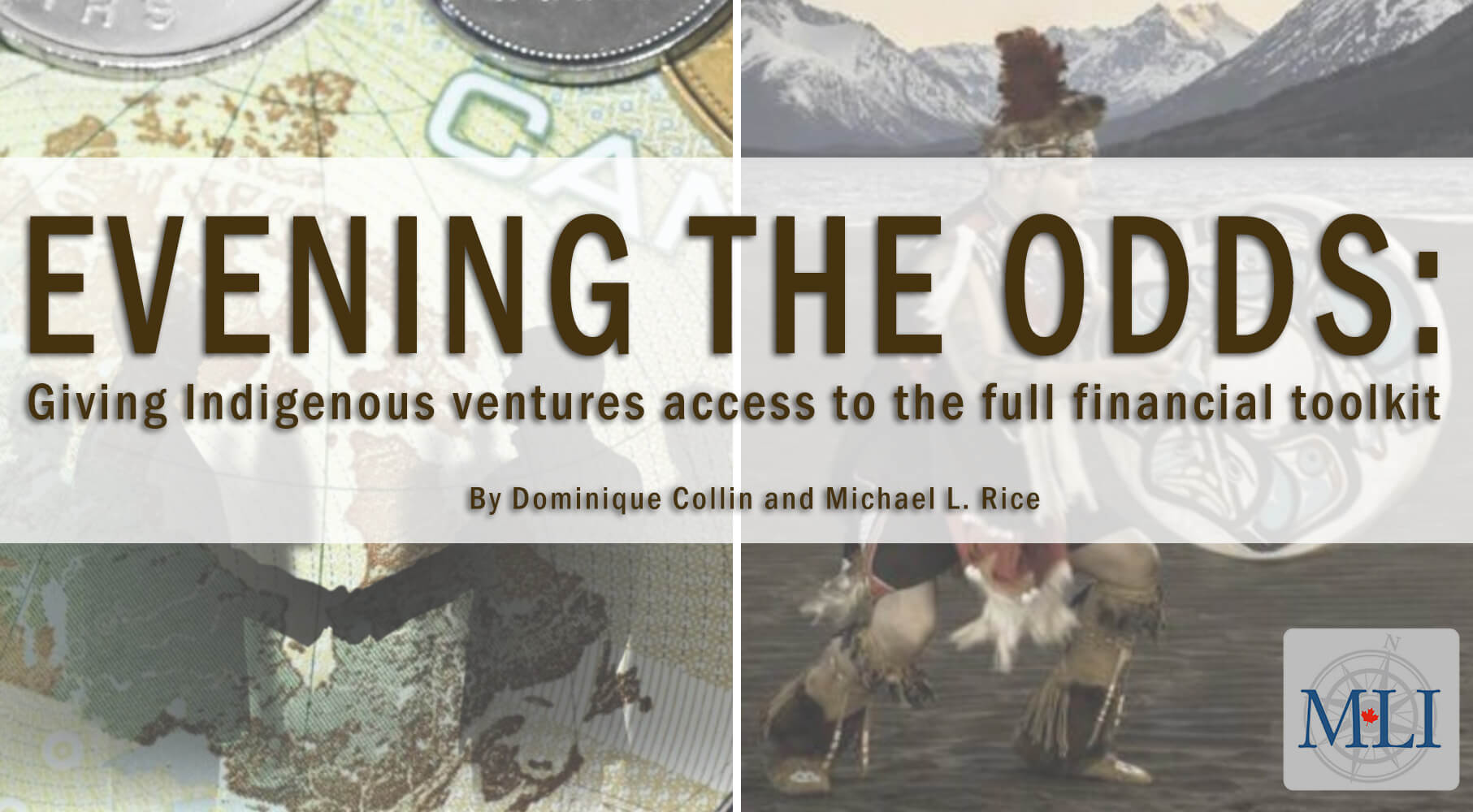 OTTAWA, ON (May 2, 2019): By now, many Canadians understand that an increasing number of Indigenous communities are full partners when it comes to resource development in Canada.  Indeed, several First Nations are considering pursuing partial or even full ownership of the Trans Mountain pipeline.
However, despite progress, many hurdles remain in place for First Nations, Inuit, and Métis peoples when it comes to unlocking the full financial toolkit available to non-Indigenous people.
To shed light on this issue, MLI's latest report examines how to help Indigenous communities access the sort of financing they need to prosper and grow their economies. In their report titled Evening the Odds: Giving Indigenous ventures access to the full financial toolkit, authors Dominique Collin and Michael L. Rice seek to develop a roadmap for policy-makers who are interested in allowing Indigenous people to participate in the modern Canadian economy.
According to the authors, "Indigenous communities have made it clear that they want to become part of the economic mainstream and want to end dependency on government programs."
"[However, research points] to systemic barriers and fragilities that urgently need to be addressed in order to meet Indigenous needs as they continue to press for broadly based economic reconciliation."
These barriers include a regulatory environment that restricts Indigenous entrepreneurship, the extraordinarily limiting scope of the Indian Act, limits on control and use of trust funds, and the lack of ability for Indigenous people to generate wealth via the ownership of homes or land.
The authors argue that these unfair restrictions have resulted in a situation in which Indigenous businesses face a capital gap. This "gap" is the shortfall of economic outcomes that First Nations and Inuit peoples could have if they had the same level of access to borrowing options as the rest of Canada, and at last count it was at more than $80 billion and growing.
Since 2003, First Nations and Inuit peoples have made significant gains when it comes to accessing market capital. Collin and Rice find that access to loans, venture capital, and equity have over doubled between 2003 and 2013. Moreover, Indigenous businesses have seen a 10-fold increase in high-risk venture capital support, indicating a greater confidence in Indigenous business ventures overall.
Importantly, over 50 percent of the capital accessed by Indigenous communities is market capital. Collin and Rice note that "for the first time in Canadian history, conventional market sources of capital have overtaken government transfers as the main source of Indigenous economic development capital."
However, data indicate that despite positive trends, First Nation and Inuit communities are disproportionately dependent on bank transfers and funds that exist within communities. This stands as a stark contrast to the foreign loans, commercial paper, venture capital and more that are available to the rest of Canada.
Collin and Rice make the case that, in order for Indigenous people to operate at the same level as the rest of the Canadian economy at large, several policy changes are needed. The data from the research presented here suggests several issues, concerns and ways forward best captured by the following four recommendations:
Continue to expand investments in and support for Aboriginal Financial Institutions (AFIs);
Make a substantive effort to renew the fiscal relationship and to make fiscal fairness and affordable borrowing a reality for Indigenous peoples and communities. This includes addressing current legal and regulatory barriers to accessing capital. Indian Act restrictions on land ownership and restrictions on accessing the funds in Indigenous trusts are areas for reform. New and alternative lending options are needed;
Indian and Northern Affairs Canada should continue to work with Indigenous peoples, nations and governments to expand investments in communities and to enhance the investment climate. Future economic development programming should emulate the approach that led to the creation of the Native Economic Development Program (NEDP) in the mid-1980s. An area of particular concern is a requirement for community guarantees for private home ownership, a liability no other local order of government in Canada could shoulder alone. These requirements result in individuals' access to housing being contingent on the financial health and fortune of their community.
Enhance the relevance, quality and availability of information to Indigenous households, businesses and communities through a commitment to transparency and openness, as well as supporting Indigenous-led research and data governance.
Ensuring Indigenous access to capital goes far beyond pipeline ownership and resource development projects; it means investment into thousands of projects and business ventures of the kind the rest of Canada already enjoys. Indigenous economic reconciliation demands no less.
To learn more about Indigenous access to capital in Canada, and how that economic access impacts reconciliation, click here.
***
Dominique Collin, PhD has more than 25 years of experience in First Nation access to capital issues including micro-credit, business financing, community banking, risk capital, housing and infrastructure financing, and First Nation government taxation. His focus has been on innovative financing solutions developed in partnership with First Nation institutions that integrate sustainability, social justice values, and financial viability.
Michael L. Rice is founder and past manager of the caisse populaire Kahnawake, the largest Indigenous credit union in North America with assets in excess of $330 million. He has worked over 35 years as an access to capital and institutional development specialist in the areas of commercial, developmental lending, housing, venture capital and infrastructure financing and is currently self-employed operating under the name of ATC Innovators.
For more information please contact:
Brett Byers-Lane
Communications and Digital Media Manager
613-482-8327 x105
brett.byers-lane@macdonaldlaurier.ca