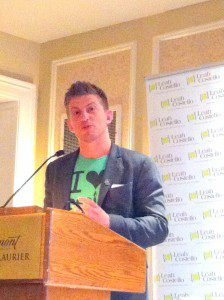 Author Alex Epstein offered an impassioned defence of the value of fossil fuels in a Macdonald-Laurier Institute event held Tuesday, June 23 in Ottawa.
Epstein is the author of The Moral Case For Fossil Fuels, a book that seeks to inject some balance into the debate about climate change and environmentalism.
At the core of Epstein's argument is the notion that the world is by nature a harsh place to live. That's why we need two components to make it habitable: machines, and the energy to run those machines.
Without a reliable source of energy, for example, babies in developing countries are less likely to survive than those that have the medical equipment available to see them through the early stages.
"Nature doesn't give us a great standard of living", said Epstein, wearing a green "I (heart) fossil fuels t-shirt as he spoke at the Château Laurier in Ottawa. "We need to create it".
The question then becomes: What's the best way to create energy?
Epstein's quibble with environmentalists is that many of their arguments fail to take into the benefits that come from a reliable source of energy – which is where his fondness for fossil fuels comes in.
The problem with alternative fuel sources is that they are unreliable. For example, he said that Germany, a leading user of wind and solar power, has to use coal as a backup.
It's just one of the fallacies that comes with ignoring the many benefits the world has derived from fossil fuels.
Epstein says that rather than trying to make the world more "green", our goal should be to make it better for human life.
"We're not ruining the climate", said Epstein. "We're mastering it".
The event, which is a part of the Eco-Pragmatist cross-country series of events, was a co-presentation of the Macdonald-Laurier Institute and the Curious Mind Group of Companies.