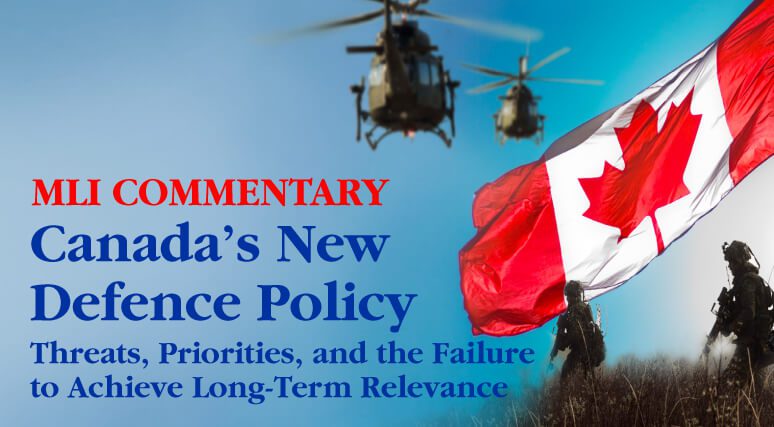 Review falls short in failing to identify threats and properly allocate resources, writes Shimooka
OTTAWA, August 17, 2017 – Canada's new defence policy fails to adequately address the threats facing Canada, what priorities should properly guide the Canadian Armed Forces (CAF), and the changing nature of new battlefield systems, says a new Macdonald-Laurier Institute commentary.
The recently-released Defence Policy Review (DPR) statement provides the basis for a well-informed personnel policy and commits the government to ramp up equipment acquisitions after 2022. These are positive first steps. But the review does far too little to keep the CAF from falling behind its allies, writes author Richard Shimooka.
"[T]he DPR may be appropriate for dealing with the international security environment of 2017. However, it will be sorely challenged to produce a military that is current for 2027, let alone 2037," says Shimooka.
To read the full commentary, titled "Canada's New Defence Policy: Threats, Priorities, and the Failure to Achieve Long-Term Relevance," click here.
The DPR pays scant attention to the immediate threats and long-term challenges facing the West, including Canada. As a result, the CAF is unable to adequately (and independently) prioritize in terms of capabilities. Instead it is relegated to asking "how much is required to satisfy its partners that it is making a sufficient contribution," according to Shimooka.
Compared to reviews conducted in the past in Canada, and more recently by allies such as the UK and Australia, the government's plan does little to match Canada's military capabilities with foreseeable threats. This is surprising given Foreign Minister Chrystia Freeland's forceful foreign policy statement this spring. Domestic security is designated the highest priority in the DPR, but it does not identify a direct threat to Canada. The DPR has little to say about Russia, or China, which are major concerns for our allies.
"The DPR's inability to identify threats will hinder the Department of National Defence's ability to undertake proper planning," writes Shimooka.
Another serious weakness is how it largely overlooks the rapidly changing nature of battlefield technology and the need for flexible and adaptive procurement. Canada is too operationally-driven, writes Shimooka, meaning the government is too focused on acquiring equipment for current missions rather than looking further at future needs.
Operations also represent another challenge to the DPR – unforeseen missions will likely cost the government more in the years to come than what it's planning for right now. And that doesn't even take into account the questionable reliability of the money earmarked for future years.
Canada needs a more effective review, which can adequately assess threats and guide the CAF in its priorities for the future. Legislation requiring more regular reviews would better help Canada adapt to the evolving strategic environment.
The alternative, according to Shimooka, is for the CAF to continue to fall further behind its allies, "putting service personnel lives in danger and the country's national interests (whatever they may be) at continuing undue risk."
***
Richard Shimooka is a senior fellow with the Macdonald-Laurier Institute's emerging Centre For Advancing Canada's Interests Abroad.
The Macdonald-Laurier Institute is the only non-partisan, independent national public policy think tank in Ottawa focusing on the full range of issues that fall under the jurisdiction of the federal government.
For more information, please contact Mark Brownlee, communications manager, at 613-482-8327 x105 or email at mark.brownlee@macdonaldlaurier.ca.