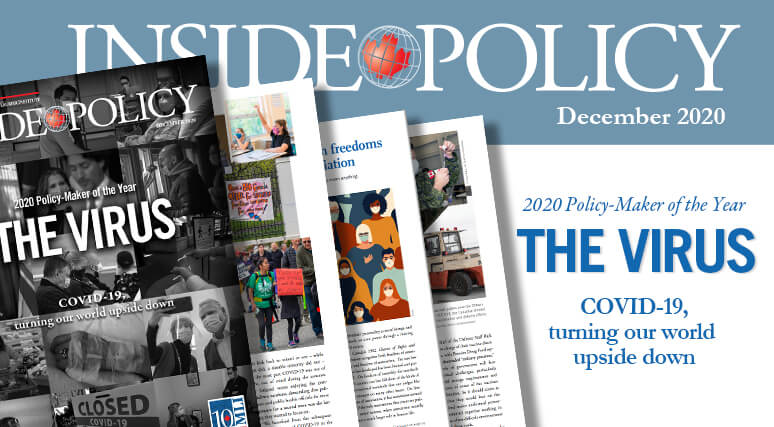 OTTAWA, ON (December 21, 2020): In our December issue, the Macdonald-Laurier Institute normally names the person or institution that has had the greatest impact – for good or ill – on Canadian public policy as Canada's Policy-Maker of the Year.
This year's award winner is neither a person nor an institution. But our choice should come as no surprise: COVID-19 has upended the world with lockdowns, mass social restrictions, numerous fatalities, and a global economic downturn. As Canada experiences a second wave, provincial governments implement lockdowns over the Christmas break. But it did not have to be like this.
As Anthony Furey explains in our cover feature, Canada's experience dealing with the pandemic has been decidedly mixed. "The month of February can now be looked back on as the time before the fall, when a complacent nation told itself that the virus that had spread from China to then ravage Iran and Italy would never find its way up to the great white north. Until it did."
We might have experienced "a reprieve with the summer lull in the number of COVID-19 positive cases and deaths," as Furey notes. Yet such a reprieve would not last forever. Discussion slowly turned towards the prospect of a possible second wave in the fall. And we did not have to wait long. "By the end of September, the daily case counts began to exceed what they were during the first wave."
Fortunately, we are at least seeing the end of the tunnel with the arrival of vaccines. To bridge towards this solution, however, Canada needs to adopt better policies that treat COVID-19 as a chronic condition. "We cannot approach the pandemic as an acute crisis that relies excessively on emergency lockdown measures while not addressing the serious weaknesses in communications, testing, tracing and treatment," write Hugh O'Reilly, Matthew Bourkas, and James K. Stewart.
Moreover, Ari Joffe argues that Canada should fundamentally rethink our approach to lockdowns and find better ways to protect our vulnerable population. Shawn Whatley also explores how we can protect our seniors in long-term care. And John Adams and Kashif Pirzada outline how Canada could adopt innovative measures like rapid antigen testing.
Yet COVID has not only had an impact on our health and health care system, but has affected our economy, society, and geopolitical reality. Nnaemeka Ezeani and Dwight Newman delve into the importance of freedom of assembly and association during a pandemic. Philip Cross examines the role of government intervention, while Linda Nazareth asks how the role of the remote workers has evolved due to the pandemic.
As the first vaccines are given, Carter Vance and Adam MacDonald write about the military role in the vaccine rollout. Richard Shimooka also explores what the post-COVID international landscape will look like.
This issue also includes insightful articles on the future of the oil and gas sector, the growing economic cooperation between Indigenous and non-Indigenous Canadians, the role of democracies and technologies, the true meaning of diversity and inclusion, and more.
To read the articles in full, check out our December issue of Inside Policy here.
For more information, media are invited to contact:
Brett Byers
Communications and Digital Media Manager
613-482-8327 x105
brett.byers@macdonaldlaurier.ca