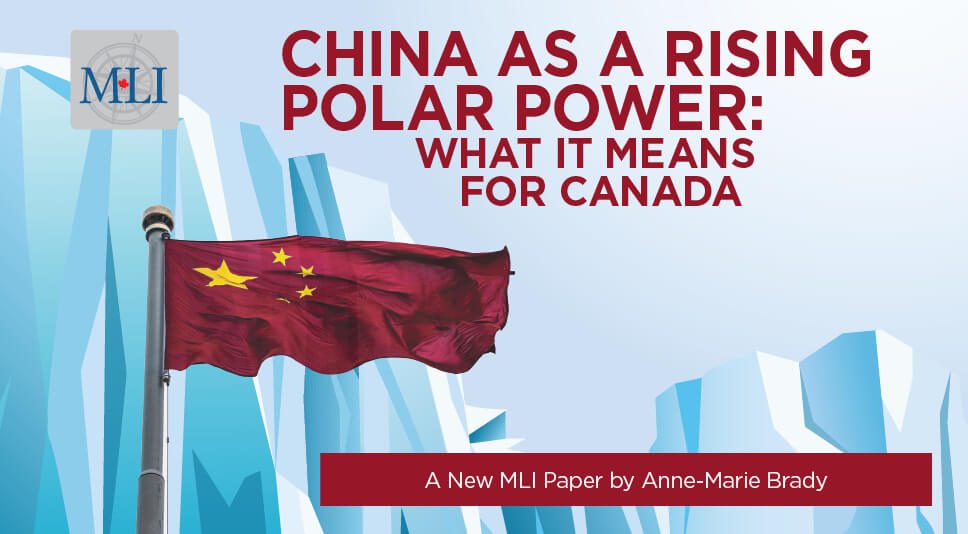 OTTAWA, ON (December 30, 2019): While few Canadians have been paying attention, distant China has become a rising power in their own back yard of the Arctic, potentially shaping the future of the region in opposition to Canada's national interests.
In a new MLI study by Anne-Marie Brady titled China as a Rising Polar Power: What it means for Canada, China's expanding role in Arctic and Antarctic affairs is put into sharper focus. Brady, author of China as a Polar Great Power and executive editor of The Polar Journal, warns that Beijing has moved from playing a relatively minor role to becoming a major stakeholder in the region.
Brady writes that China's interests in the Arctic span geostrategy, security, natural resources, and science and technology. While all these ambitions pose potential challenges for the West, Brady's paper raises particular concerns about China's maritime military moves toward the region.
"China's plans for new nuclear submarines and icebreakers should be of concern to Canada and other participants in the Arctic," Brady explains. "If Chinese submarines armed with nuclear weapons were able to navigate the Arctic Ocean without detection, this would alter the nuclear balance between China and the United States."
As Canada seeks to maintain its claims to Arctic sovereignty, policy-makers should anticipate an inevitable disagreement with officials in Beijing who view Arctic sea routes as international straits. China hopes to use this position to press its advantage and gain a seat at the table to determine a future for the region.
Despite this growing challenge, Canada remains largely asleep at the wheel when it comes to China's agenda in the Arctic. For instance, Brady notes that research cooperation between Beijing and Ottawa in the region might not be in Canada's best interests.
As Brady argues, Canada should "look carefully at the level to which it is willing to support and, in some cases, subsidize China's agenda in the Arctic. For example, is it wise for Canada to subsidize Chinese polar scientists to work at the Canadian High Arctic Research Station (CHARS) in Cambridge Bay, Nunavut?"
To learn more about China's polar ambitions and why Canada ought to be concerned about them, check out the full study here.
***
Anne-Marie Brady is a Professor in Political Science and International Relations at the University of Canterbury in Christchurch, New Zealand and a Global Fellow at the Wilson Center, Washington DC.
To arrange an interview, media are invited to contact:
David Watson
Managing Editor and Communications Director
613-482-8327 x103
david.watson@macdonaldlaurier.ca