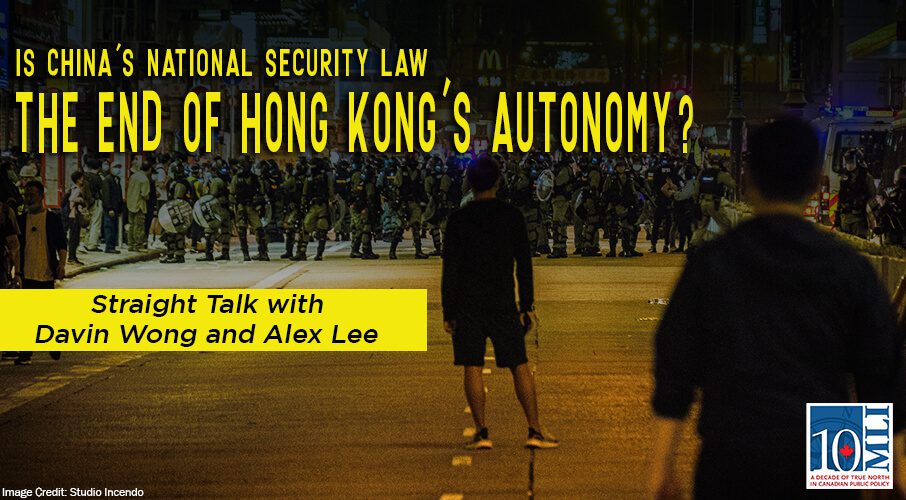 OTTAWA, ON (July 9, 2020): With China's new "national security law" having come into force in Hong Kong, many critics and activists feel that this latest encroachment might represent the final nail in the coffin for the territory's promised autonomy.
To make sense of this situation and what it means for Canada, MLI's latest Straight Talk features a conversation with Davin Wong and Alex Lee from the Alliance Canada Hong Kong. This publication is based on a transcript of a recent discussion between MLI Communications Officer Ai-Men Lau and Davin Wong and Alex Lee on an episode of MLI's Pod Bless Canada podcast.
Wong and Lee explore what the new national security law means for Hong Kong and the world more broadly. For Hong Kongers, it represents the premature and effective end to the "one country, two systems" model that had governed the territory since the British handed it over to China in 1997. However, the implications are much broader.
Due to the vague nature of the law, it could be interpreted to apply to anyone anywhere who speaks out against the Chinese Communist Party. "It would be quite naïve to think that this only affects folks in Hong Kong and that it doesn't ultimately tie back to Canada and our relations with China," explains Lee.
In rating the federal government's performance in dealing with China, Lee says Ottawa would get at best a "C-" for its response to date. He urges the government to move beyond expressions of concern and focus on concrete actions like targeted sanctions against human rights abusers, expediting asylum claims for Hong Kongers fleeing China's oppression, and combatting the foreign interference of the Chinese Communist Party within Canada.
According to Wong, if Canada's approach of releasing joint statements or expressing rhetorical concern was enough to sway China, then this national security law would have never been proposed. If anything, Ottawa's lax approach "sends the message that Chinese authorities can act with abandon, and that Canada, at least, doesn't seem to care."
Over the course of the conversation, Wong and Lee discuss a variety of aspects of this issue, including:
Advice for the federal government in how to shape its approach to China in the wake of the national security law;
Reasons why the federal government has been so hesitant to engage in concrete action;
The impacts of the law on Hong Kong Canadians, and more.
Ultimately, both Wong and Lee argue that the government must frame its approach to China and Hong Kong as part of a broader long-term strategy that reduces our country's dependence on China. Such a strategy would require bold action in concert with like-minded allies to communicate clearly to Beijing that its behaviour will be met with resistance and consequence.
To read the full Straight Talk Q&A, click here, or listen to this conversation in podcast form here.
For more information, media are invited to contact:
Ai-Men Lau
Communications Officer
613-482-8327 x111
ai-men.lau@macdonaldlaurier.ca