Tune into CBC Radio One this weekend for a preview of the first Great Canadian Debate of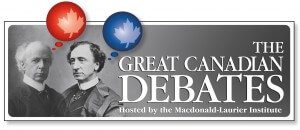 2015.
Member of Parliament Chrystia Freeland and George Mason Professor Frank Buckley will square off over the resolution "Canadians Should Stop Worrying About Income Inequality".
The CBC Radio program the 180 with Jim Brown will feature both debaters on this week's show. The program airs in all time zones at 11 a.m. (except for Newfoundland, which is 11:30 a.m.) on Sunday March 29, then again at 2 p.m. (2:30 p.m. in Newfoundland) on Monday, March 30.
The Great Canadian Debate between Freeland and Buckley will be taking place on Tuesday, March 31 at the Canadian War Museum in Ottawa.
For tickets, click here.