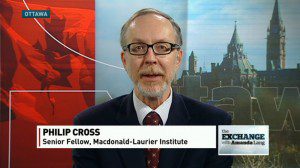 Canadians should stop worrying about minor setbacks such as the current slump in oil prices and instead welcome the long-term benefit of natural resources, Macdonald-Laurier Institute Senior Fellow Philip Cross told CBC in an interview.
Cross is the author of a recently-released MLI paper that found natural resources contribute even more to the Canadian economy than previously understood. Contrary to assertions that Canada must "diversify" its economy, he argues, this is a good thing.
"Over the long term, Canada has benefited on balance from resources", Cross told CBC's the Exchange.
"This downturn is likely to be short like most of the others", he added.
The National Post called the paper "a much-needed reality check: resources are more important to Canada than many realize – or want to admit".
"Among the surprising conclusions is that resources also account for a big part of Canadian manufacturing – 46.2 per cent of all manufacturing output in 2010 – and affect all industries in Canada, such as business and financial services that keep large urban areas productive", the Post writes.
The paper was also mentioned in a blog post on the Wall Street Journal website.
Perrin Beatty, president and CEO of the Canadian Chamber of Commerce, praised the paper on Twitter.
Fascinating @MLInstitute report today on the contribution of Canada's resources sector. #cdnpoli http://t.co/NjKDHEAsUm

— Perrin Beatty (@PerrinBeatty) May 29, 2015