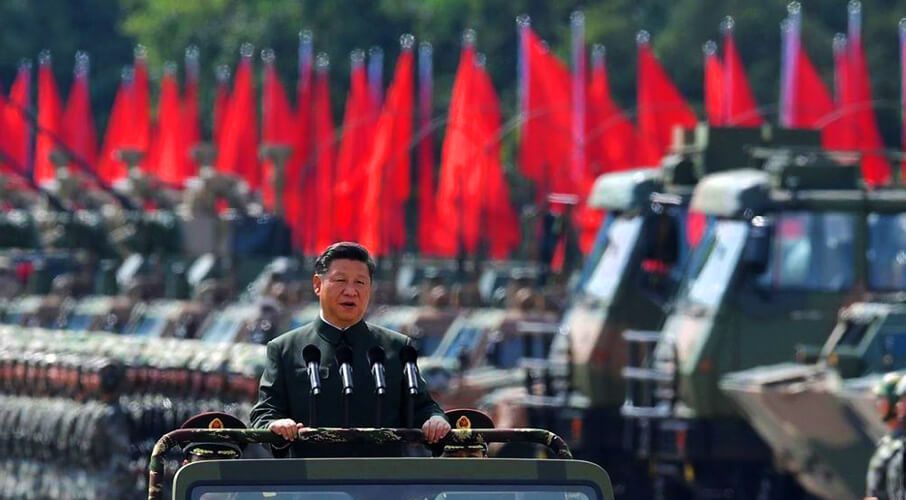 Canada should push for a collective censure from like-minded states to penalize China's bullying tactics and aggressive behaviour, write John Hemmings and Megan Wolf.
By John Hemmings and Megan Wolf, March 25, 2020
The state of the Canada-China relationship is a bellwether for the new international relations. It is – to Ottawa's consternation – increasingly an age of power politics, rather than an age of rules and order. As the Globe and Mail has lamented, "Canada simply doesn't have the weight to compel China to stick to terms, as was demonstrated in the wake of Ms. Meng's arrest."
The world today is changing and the international stage is facing a dramatic shift as key states, like China and Russia, are substituting accepted standards and norms of the liberal rules-based order for a different, older form of international relations: one in which power is the standard by how things are judged.
China is a clear example of this, brandishing its military power for fait accompli strategies in the South China Sea and elsewhere. Meanwhile, Beijing has similarly attempted to leverage its growing economic power for attraction and coercion, and discourse power to spin events as the powerful wish. Its increased influence over UN bodies – such as the World Health Organization over the COVID-19 crisis – has been only the most recent example of this newfound sharp power.
For Canada, the rude awakening into this new age began with the arrest of Chinese national Meng Wanzhou in December 2018 and Beijing's revenge-detention of two Canadian nationals in China, Michael Kovrig and Michael Spavor. The event placed Canada squarely between its ally, the US – the current hegemon – and China, a brash new contender eager to take offence at any lack of respect shown to its new status. Face is everything. Rules are nothing, mere Western tokens – intended to keep Beijing from taking its rightful place at the head of nations. Or so Chinese narrative would have us believe.
For Canada, it is not the first time it has been squeezed between great powers. Prior to the 1950s, Canadian foreign policy consisted of balancing between its powerful southern neighbor and the British Empire, to which it is still aligned. Despite this, it was able to carefully balance between the two powers – a happenchance of history as well as shared legal norms. As a result of this and its status as an archetypal middle power, Canada has long championed a certain type of international relations, and its diplomats have fought to promote liberal values and norms as well as human rights as a way of protecting the weak from the strong.
The 1970s saw an increasingly confident liberal tradition as Ottawa increased its diplomatic footprint in various overseas missions and multilateral institutions. Former Prime Minister Pierre Trudeau increased the number of Canadian peacekeeping missions around the globe in an effort to support the United Nations. At the same time, Canada became one of the first Western countries to officially recognize China in late 1970.
It its quest to balance the massively asymmetrical relationship with its powerful southern neighbor, Ottawa also began to seek trade diversity, since a full 75 percent of Canadian exports were destined for the US. The 2008 recession reinforced this desire to diversify from trade within NAFTA, and with China a rising trading superpower, the primary choice of diversification seemed obvious. The resulting slew of trade deals between Canada and China included 15 Memorandums of Understanding signed by various departments in the Canadian and Chinese governments between 2008 and 2012, the Canada-China Investment Treaty in 2013, and the signing of an MOU on charter flight cooperation in 2015, among others.
Political ties under Prime Minister Harper grew following a 2009 visit to Beijing, in which he oversaw the Canada-China Joint Statement that laid out specific efforts to expand trade and investment. Only one year later, President Hu Jintao visited Canada to cement these ties and encourage further deals. As a result of these machinations, China has quickly risen to become Canada's second largest trading partner after the United States (the EU is third). China imports roughly $17.5 billion worth of goods, a significant amount despite declining by 17.7 percent due to last year's events.
While the bilateral relationship had previously weathered the storms of cyber espionage and trade access, the crisis begun with Meng's detention has of course brought all this progress into the spotlight, and Beijing seems willing to use the economic relationship to coerce Canada into releasing her. While Canadian foreign policy-makers have directed some anger towards the Trump administration , there is also consternation not only about Beijing's heavy-handed response – but the deeper implications of what it means for state-on-state behavior. China's arbitrary detention of two Canadians, Michael Kovrig and Michael Spavor, in an act of hostage diplomacy, was unexpected though perhaps not unprecedented. After all, these are not the first Canadian citizens to have been arbitrarily detained by China.
The realization inside Ottawa that this behavior could represent a new type of great power behavior – one in which the rule of law as established after the Second World War is replaced with punitive extra-legal measures. If authoritarian powers are able to detain the foreign travelers for hostage diplomacy, what are the implications for middle powers? Will they have the ability to defend their interest in such an order, or is their role merely to submit to the face-saving antics of the powerful?
Prime Minister Trudeau will also be asking himself some broader questions. Will the Western Alliance respond to these new tactics, and how can Canada lead that discussion? Can Canada use its deep diplomatic reach inside NATO, the EU, and other international agencies to drive the response to great power politics? These are the questions and challenges that are arising in the light of a new global dynamic.
Canada has come to a major fork in the road: one in which it can continue to construct, defend, and project liberal internationalist norms in its foreign policy, another where it can become the pragmatic trading power, utilizing its strong ethnic connections to China to revitalize its economy, or a third, where it can frame Chinese and Russian behavior as unacceptable and mount a defence from within the West. This latter will require Canada to balance authoritarian states alongside the US, something that will requiring finessing.
It is clear that a new age of power politics has dawned on the global scene: it is not yet clear how Canada will respond to this new capricious form of politicking, meekly and submissively, or with a stronger sense of the right of its norms and standards. There are signs that the latter approach may be winning for now. Ottawa has sought the support of allies such as the UK, France, Germany, the US, and various NGOs to speak out against China and to advocate for the release of Spavor and Kovrig.
Perhaps a collective diplomacy is the way forward for middle powers, one which confuses and penalizes Beijing's bullying tactics. If Ottawa were to get a collective form of censure from a group of like-minded states, it might begin to shift China's high-handed approach to international diplomacy. However, only time will tell.
Dr. John Hemmings is an associate professor at the College of Security Studies at the Daniel K. Inouye Asia Pacific Center for Security Studies. Megan Wolf is a research assistant at the Daniel K. Inouye Asia Pacific Center for Security Studies.