OTTAWA, ON (August 20, 2021): Following a rocky start to Canada's vaccine rollout, this country is now leading its peers in COVID-19 vaccinations and has begun to climb in international rankings on pandemic performance. However, Canada continues to be held back by a number of factors:
All similar advanced countries have lower vaccination rates but all have moved more quickly than Canada to reduce public health restrictions and open up their economies in the last few months;
The burden of restrictions in recent weeks is greater in Canada than in peer countries, meaning Canada's economic performance, which has been the worst among comparable countries through the pandemic, has had to endure comparatively prolonged public health restrictions;
While COVID deaths per se are low, excess deaths in Canada are high, suggesting that excessive restrictions could also be having harmful health effects.
These issues are revealed in the most recent update of the Macdonald-Laurier Institute's COVID Misery Index (CMI). The CMI is the only comprehensive tool available to Canadians to monitor the impact of the virus and government pandemic measures on the country. It compares 15 peer nations by capturing the effects on human health (Disease Misery), the efficiency of governments' responses (Response Misery) and the economic costs associated with each country's approaches (Economic Misery).
Canada now ranks 9th out of 15 comparable countries in protecting the health and prosperity of its citizens against COVID-19, up from 11th in the previous update of the CMI in June.
Canada's improvement has been driven in large part by a very high take-up on vaccines, an area where Canada once underperformed. With an index best rate of first doses and full vaccinations per capita, Canada is now ranked second when it comes to Response Misery. In the rankings, a country's poor performance on public health measures such as vaccine rollouts and testing, adds misery for the population and contributes to a worse grade for Response Misery.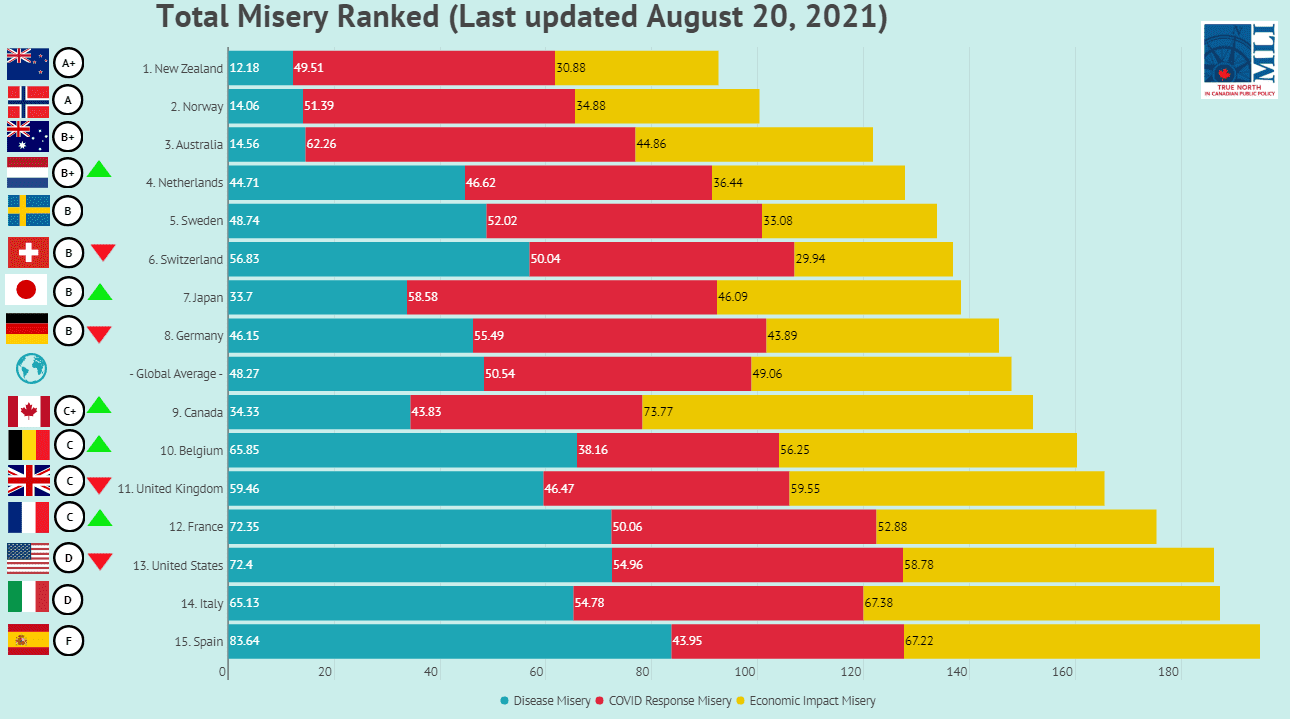 But since the last update of the CMI, Canada has also had the highest levels of "stringency," a measure of restrictive public health measures like lockdowns, school and business closures and restrictions on gatherings. This means that other countries with less vaccine protection have opened up their economies and reduced limits on personal freedoms more quickly than Canada.
Canada remains slightly below average in the overall rankings due to this high level of stringency, as well as very high levels of "excess deaths," and particularly due to the worst economic performance among peer countries.
On Disease Misery, Canada remains a relatively strong performer. COVID cases, deaths, hospitalizations and ICU admittance remain low compared with peers, and Canada gets a "B+" grade on this measure. However, Canada's "excess deaths" rates, another Disease Misery metric, are significantly elevated compared to peers, which means more Canadians were dying of causes other than those officially attributed to COVID-19.
"This suggests either an undercounting of COVID deaths, or that some combination of limitations on access to surgeries and medical treatment, increases in overdoses and suicides, or other forms of preventable death occurred as a result of Canada's response to COVID-19," says MLI Senior Fellow and CMI designer Richard Audas. "Canada has had a respectable performance in the areas of Disease and Response Misery; the only outliers are more stringent public health measures, and increases in excess deaths compared to peers, including peers who had far higher COVID-19 related deaths."
Economic data is not as regularly or consistently updated by the countries included in the index, so it has not been revised in this latest CMI update. Canada sits in last place in our rankings for Economic Misery, with an F grade, due to persistently high pandemic unemployment rates and comparatively high levels of added public debt that will burden Canadians for years to come.
Depending on how the delta variant of the virus and other VOCs (variants of concern) progress, it is possible that Canada, with its high rates of vaccination, may avoid the worst of a "fourth wave," and be able to continue to relax restrictions. Other countries whose vaccinations remain sluggish or have plateaued remain at greater risk.
"A high vaccination rate globally remains vital to ending the pandemic," writes Audas. "The key for Canada to avoid another serious wave will be to even further expand its vaccination efforts and be at the leading edge of ensuring boosters and new vaccines are prepared as the virus continues to evolve."
For more information, consult the links below.
Additionally, media are invited to contact:
Brett Byers
Communications and Digital Media Manager
613-482-8327 x105
brett.byers@macdonaldlaurier.ca