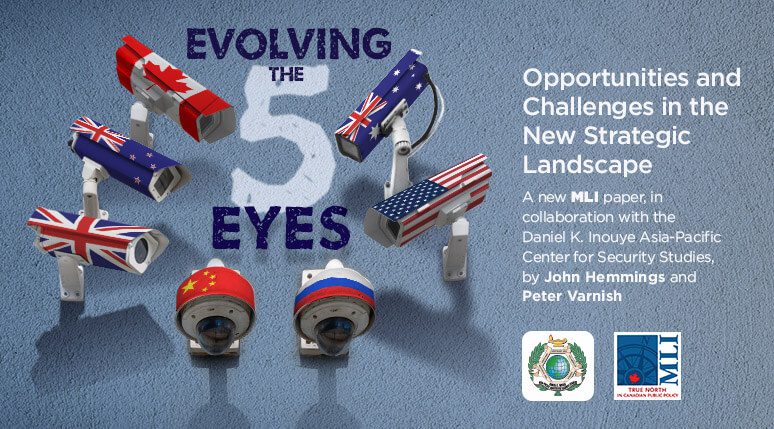 OTTAWA, ON (September 30, 2021): The international environment is increasingly insecure. Under the leadership of Xi Jinping and Vladimir Putin, China and Russia are attempting to reshape the international system and constrain the liberal democratic West. State competition is changing, in a shift towards deniable, intrusive, and non-military threats against all sectors of society and, as a result, liberal democracies are increasingly looking for collective ways to respond. To meet this growing global challenge, Canada could do much more with the historic Five Eyes grouping that also includes the US, UK, Australia and New Zealand.
The Five Eyes began primarily as an intelligence-sharing and technology collaboration arrangement. But in a new joint publication between the Daniel K. Inouye Asia-Pacific Center for Security Studies and the Macdonald-Laurier Institute, authors John Hemmings and Peter Varnish argue that the Five Eyes grouping could be used by Canada and others to expand the ability to counter and deter China and Russia across multiple areas, including technology, information, military, and economics.
According to the report, titled "Evolving the Five Eyes: Opportunities and Challenges in the New Strategic Landscape," the Five Eyes has many advantages, from its proven history of creating effective personal relationships across all five countries to its ad hoc, fluid informality which makes it an ideal vehicle for expanded security cooperation. The countries share a common language, democratic traditions and legal systems and they have largely compatible militaries and security practices.
In a foreword to the report, former national security advisor to the Prime Minister of Canada Richard Fadden notes, "I believe the Five Eyes is an important part of the response, given the innate strengths of the group. This report makes a bold attempt to define that role and puts forward a number of concrete proposals in the spirit of democratic debate and discussion."
As Hemmings and Varnish write, "today's authoritarian powers, the People's Republic of China (PRC) and Russia, understand the importance of data-oriented information and technologies and are pursuing aggressive strategies to surpass the West in numerous dual-use sectors."
While challenges posed by authoritarian regimes are similar to the political warfare threat by the Soviet Union during the Cold War, China and Russia are also challenging norms in global governance, maritime law, and international diplomacy. In light of a rapidly evolving security environment, Hemmings and Varnish put forth a bold new vision for the Five Eyes.
Commenting on the report, MLI Senior Fellow and Indo-Pacific Program director Jonathan Berkshire Miller said that "this report highlights the enduring importance, relevance and need for a robust Five Eyes grouping to face current and emerging threats. While these challenges and threats are global in nature, there is an increasing need for attention of the group on the Indo-Pacific theatre as the centre of geostrategic competition."
In preparing their report, Hemmings and Varnish conducted extensive interviews with dozens of defence and security practitioners across the Five Eyes. These interviews informed the following recommendations:
Create a Five Eyes tech centre for promising technologies and provide a venue for collaborative projects.
Study whether the National Technology Industrial Base (NTIB) would be a suitable venue for long-term Five Eyes technological development.
Create interagency public/private working groups to coordinate on technology standards.
Create a fusion centre to undertake classified analysis and operations on information operations/interference.
Create a counter-interference handbook that analyses Russian and Chinese interference both inside the West and in other countries.
Create a Five Eyes Defence Policy Bureau.
Develop robust defence guarantees among the Five Eyes partners
Increase political and security consultation among the Five to address the economic warfare intended to degrade any members' sovereignty or isolate members of the group from each other.
Carry out supply chain security audits across the defence and dual-use sectors of national economies.
Develop a collective approach towards economic warfare.
Institute regular meetings between heads of Five Eyes investment screening bodies.
Carry out a feasibility study on free trade agreements, bilateral or multilateral, and consider combining them into one agreement.
"Our hope is that this paper's recommendations will foster evolution – not revolution – within the Five Eyes grouping," write John Hemmings and Peter Varnish. "This might include discussions leading to the solutions for urgent and immediate threats (collect the low hanging fruit) and will also open up for discussion and debate long-term structural changes within the security and defence communities of our Five nations."
To learn more, click on the button below.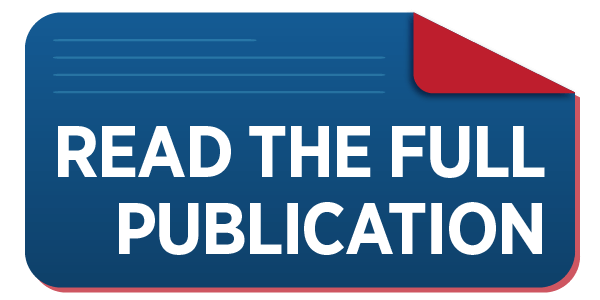 Endorsements
"[T]he Fives Eyes' shared vision of freedom—a love of democracy, the rule of law and ordered liberty–must be clear even as authoritarian voices grow louder and more insistent. This report argues for action across the network: a case for shared policy that enlivens rhetoric into statecraft." – The Honourable Andrew Hastie, MP, Assistant Minister for Defence, Australia
"Five Eyes has served our nations well for many decades … Intelligence cooperation is particularly critical as grey-zone and hybrid warfare expands.   However, the time is also right to discuss how this cooperation can be both deepened and broadened.  My thanks to Prof. John Hemmings and Peter Varnish for undertaking this important and thought-provoking paper." – Simon O'Connor, MP, Immediate Past Chair of the Foreign Affairs, Defence, and Trade Committee, New Zealand
"Five Eyes is the foundation of the free world. In the face of Chinese Communist Party aggression, Five Eyes must lead the way in building collective resilience to economic coercion while deepening cooperation across critical fronts of the competition such as technology, defense, and foreign influence. John and Peter's report is both a blueprint and a call to action that should be heeded by Five Eye governments and beyond." – Representative Mike Gallagher, US Congress
"The findings of this report are timely and important. Canada must work closer with our Five Eyes allies to counter the threats imposed by an aggressive imperialistic Russia and ambitious communist China, and to deter them from acting against our interests and values… The recommendations offered in this report must be considered to prevent further decline in both our international reputation and collective defence." – James Bezan, MP, Shadow Minister for National Defence, Canada
"Evolving the Five Eyes deals with all the new tricks of authoritarian powers: integrated debt diplomacy, information wars, systemic stealing of technology, political interference including a revival under Xi Jinping of Beijing's Comintern – the United Front, etc., and how they all might be countered. No shillyshallying, this paper examines what might be done to resist China and Russia – as they try to exert dominance using all kinds of gray zone tactics. A worthwhile contribution in our dangerous times." – The Honourable Michael Danby, past chairman of the Joint Standing Committee on Foreign Affairs, Defence and Trade, Australia
"As a Canadian I am pleased to endorse the Five Eyes paper by John Hemmings and Peter Varnish. As someone banned from Russia and likely subject to arrest upon setting foot in formerly democratic Hong Kong for my writing and support for human rights, I feel strongly that Canada needs to work with its allies to do more to counter the threat presented by China and Russia. A lot of careful research/scholarship has gone into the preparation of this report and Canadian politicians and Global Affairs officials should be encouraged to carefully consider its findings." – David Kilgour, former Canadian Member of Parliament and Secretary of State (Asia-Pacific)
"The Five Eyes community has been a pivotal forum for like-minded nations to share, assess co-ordinate security issues. Today's increased threat picture means it's time for this important alliance to advance specifically in monitoring the authoritarian activities of China and Russia. Both countries are progressively intent on expanding their own malevolent influence that will eventually challenge western standards and way of life. We need to collectively master the grey zone and strengthen our lagging military capabilities to push back. This report provides an excellent argument for action as well as a great insight into the tumultuous years to come." – Tobias Ellwood, MP, Chair of the Defence Select Committee of the UK Parliament
***
John Hemmings is a professor at the Daniel K. Inouye Asia-Pacific Center for Security Studies (DKI APCSS), a Department of Defense regional center. The views expressed in this article are the author's alone, and do not necessarily reflect the official position of the DKI APCSS or the United States Government.
Peter Varnish, OBE, FREng is a visiting professor at the University of Coventry.
For more information, media are invited to contact:
Brett Byers
Communications and Digital Media Manager
613-482-8327 x105
brett.byers@macdonaldlaurier.ca