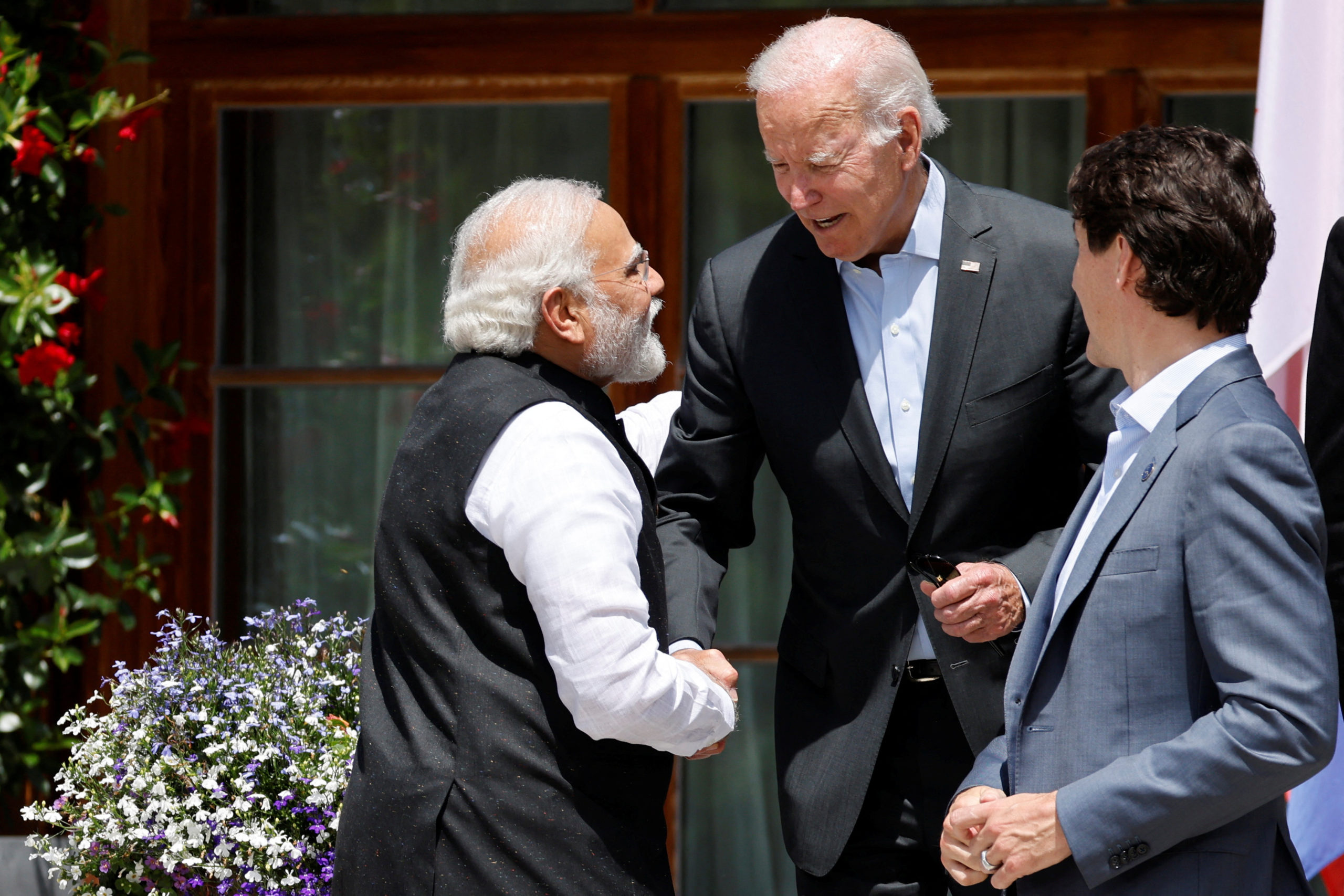 This article originally appeared in the National Post.
By Shuvaloy Majumdar and Sameer Patil, July 11, 2022
Russia's invasion of Ukraine has reshaped NATO's eastern flank into its eastern front. Kim Jong Un's missile tests over northeast Asian waters have intensified. The Chinese air force has intercepted Canadian and Australian fighter jets. The world is undeniably a dangerous place as emboldened authoritarians seek to upend the rules-based post-war international order, and they are investing heavily in gaining a technological edge. If democratic nations fail to respond by joining hands to confront these threats, prospects for peace will be grim.
The Russian invasion of Ukraine has compelled a rethink of western assumptions, from energy to security, introducing a major reinvestment into military capabilities and an expansion of NATO. It also serves as a reminder that democracies ought to assess Indo-Pacific security more seriously, in what might be considered NATO's Pacific flank. The West need not wait for similar crises to erupt to start building security cooperation with Asian democracies, particularly India and Japan.
Much has been revealed by Russian and Chinese defence arrangements and weaponized commerce. Chinese drones in Ukraine's inventory stopped working at the onset of the Russian invasion. Russia let its Armenian ally twist in the wind until its positions over contested districts with Azerbaijan fell more in line with the Kremlin's direction. Despite Russia's cyberwarfare efforts against Ukraine, which began during its 2014 invasion, China's telecommunications firm Huawei sought to provide Ukraine cyber security and defence capabilities in 2020, only to later hack Ukrainian critical infrastructure just before the latest Russian invasion.
Confronted by these realities, some western leaders seem to understand that mutual security underpins mutual prosperity. The recent meeting of the Quad (India, the United States, Japan, and Australia) in Tokyo is encouraging. Leaders like President Joe Biden have grasped the importance of building alliances between democracies in the Indo-Pacific as a cornerstone for defence policy and as a major economic opportunity.
Over the last year, the Quad has been accelerating closer defence relationships between the U.S., Australia, India and Japan. It is also part of a larger effort by these nations to build a stronger relationship especially with India, both in defence and economic spheres, as demonstrated by India and Australia's recent free trade agreement.
This effort to improve ties comes at an opportune moment for India. New Delhi has acknowledged the need to step up its efforts to develop a national defence industry and diversify security engagements, rather than continue to rely on traditional suppliers that do not share its commitment to democracy and have exploited defence supply chains.
These efforts are already bearing fruit. Indian companies have become established players in the defence industry. For example, ideaForge makes cutting-edge drones, and Tonbo Imaging provides advanced imaging and sensor systems, which have been tested by U.S. and Israeli militaries. And the Indian government's Innovations for Defence Excellence program will tap into the country's booming innovation eco-system, the world's third-largest, to launch the next generation of defence start-ups.
The bad news is that while President Biden and others are working to improve western cooperation with India, Canada is entirely missing in action. Given the close Indo-Canadian ties, and Canada's security interests across the Indo-Pacific, one would think that Ottawa would bring ambition to this growing relationship between India and the West. Yet whether it's the security cooperation of the Quad or AUKUS, negotiations for a new trading bloc that would include India, the U.S. and other leading Asian economies, or cooperation with Pacific island states, Canada has simply been left out of the conversation.
With its advanced defence industry and leading innovation ecosystem, Canada has a lot to offer India and the Indo-Pacific in building the 21st century defence industry base. Canadian companies could benefit from the opportunities from a major market like India and take advantage of its innovations. And India could benefit in having Canada serve as a supplier of trustworthy, high-quality defence equipment. Both nations would benefit from collaborating on defence technology and building on the desire for a stronger trading relationship.
Canada has already fallen behind its closest allies, the U.S. and Australia, in building a partnership with India. As the Indo-Pacific continues to rise in importance, it is in the Canadian interest to define a leading role for itself with India toward a more secure and prosperous world.
Shuvaloy Majumdar is Munk Senior Fellow and heads the Foreign Policy & National Security Program at the Macdonald Laurier Institute. Sameer Patil is Senior Fellow at India's Observer Research Foundation, and served at the National Security Council Secretariat in the Indian Prime Minister's Office.