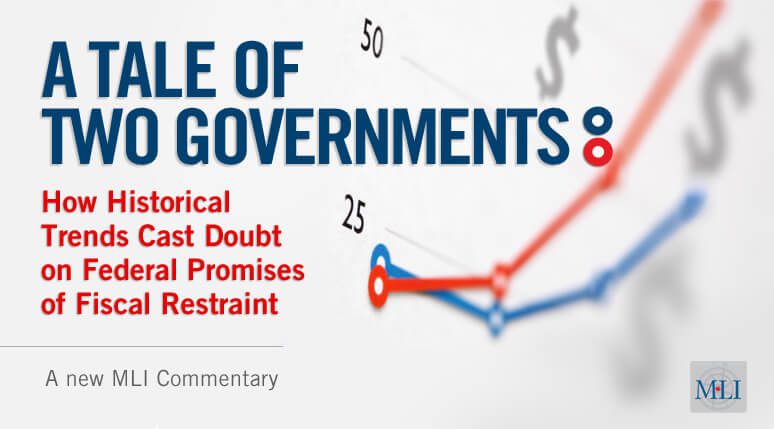 OTTAWA, ON (Feb. 21, 2018): Tuesday's federal budget will reveal whether the federal government's plans to dramatically reduce the rate of spending growth over the last two years of its mandate are as unrealistic as they seem. If not, the result could be a worsening fiscal picture with high deficits and debt, writes Munk Senior Fellow Sean Speer.
The government was elected on a commitment to run annual budgetary deficits of $10 billion for three years before reaching a balanced budget in 2019. Five months later the 2016 Budget showed Ottawa's deficit would be larger and longer. MLI's latest report, A Tale of Two Governments: How Historical Trends Cast Doubt on Federal Promises of Fiscal Restraint, analyses the government's medium-term fiscal projections and the potential challenges to achieving its fiscal targets as we approach next week's federal budget.
The government has grown spending considerably in its first two years in office. Program spending has grown, on average, by 6.4 percent annually. It is currently set to grow only by an average of 2.3 percent in the final two years of the government's four-year mandate. Yet Ottawa has provided few explanations for how program spending growth will be more than halved. Canadians have reasons to be skeptical — especially in light of the historical record around election cycles.
"That record shows a tendency for Ottawa to increase spending growth, not cut it in the lead up to elections," Speer said. "If what's past is prologue, the trendline suggests that projections are to continue going up rather than down."
A failure to achieve the government's own targets for spending growth could put upward pressure on its deficit projections. If spending growth continues at 6.4 percent, it could result in a near doubling of its annual deficit. If spending growth is closer to the pre-election average of 7.8 percent for governments over the past 50 years, then the deficit could rise twice as large as currently projected.
Fortunately, the government can still set out a clear and concrete plan to deliver on its current spending projections and avoid risks to its long-term fiscal position. Budget 2018 (to be released on Tuesday, February 27) will be a prime opportunity for the government to set out a credible spending plan — including specific details on a medium-term return to a balanced budget.
"Based on past research and a cursory look at past federal elections and government spending patterns, spending growth is more likely to increase than decline in the lead up to a federal election," Speer said. "Think of it as a tale of two seemingly different governments — one that ramps up spending and another that controls it. The odd part is the latter proposes to do it in the lead up to the next election."
For further information, media are invited to contact:
Cole Hogan
Communications Manager
613.482.8327 x105
cole.hogan@macdonaldlaurier.ca