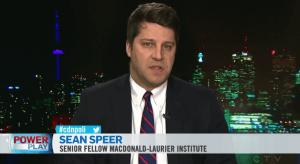 Calls to use the newly-elected Liberal government's infrastructure spending plan to give the economy an immediate shot in the arm are growing.
But this would be advice the government should avoid, Sean Speer told CTV's Power Play.
"There's a preponderance of evidence that that type of short-termism not only won't produce the type of results that most would hope, it actually poses the risk of undermining the effectiveness of the program long-term", says Speer.
Speer is the co-author, along with infrastructure expert Brian Flemming, of a commentary outlining steps the government should take to ensure its infrastructure spending plan reaches its potential. The commentary is a part of MLI's From A Mandate For Change To A Plan To Govern series.
Speer also discussed the commentary with CBC News and CBC TV's Power and Politics.
Note: The CTV interview is only available to Bell subscribers.