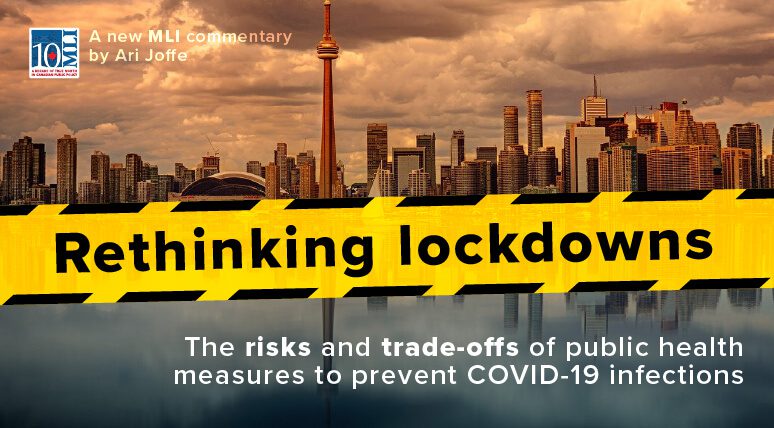 OTTAWA, ON (December 16, 2020): With case tallies rising, much of Canada is or could be facing even tighter COVID-19 restrictions and lockdown measures. However, such restrictions come at a cost; is that cost worth paying again this winter?
In a new MLI commentary titled "Rethinking lockdowns: The risks and trade-offs of public health measures to prevent COVID-19 infections," Dr. Ari Joffe, a specialist in pediatrics and pediatric infectious diseases, examines both the efficacy and cost of lockdown measures employed in Canada and globally in early 2020. He finds that based on the most recent empirical data, the cost of lockdown measures widely exceeds their benefits.
"I was an initial proponent of lockdowns," explains Dr. Joffe. However, as better information emerged, he re-examined the efficacy of such programs and found them harder to justify.
In particular, as the pandemic has progressed, societies have found that the infection fatality rate is lower than was initially feared when lockdown measures were first implemented. Dr. Joffe also notes that we have a much better understanding of who is at risk, arguing that "less than 10 percent of the population is at high-risk, accounting for more than 90 percent of potential deaths from COVID-19."
Furthermore, lockdowns were generally an emergency measure implemented with little in the way of a meaningful exit strategy – at least, beyond simply waiting for an effective vaccine. The resurgence of cases throughout much of the world, and the return to lockdowns in various jurisdictions, points to some of the drawbacks associated with an overreliance of such nonpharmaceutical interventions.
Lockdowns have also resulted in a wide-range of unintended ramifications. Economic damage, delays in "non-urgent" surgeries, diagnoses, and treatments, and excess deaths arising from the "collateral effects" of lockdown measures should all be considered as policy-makers weigh future measures.
Dr. Joffe argues that Canadians have been essentially presented with a "false dichotomy" – between a choice of either economically-damaging lockdowns or lethal inaction. However, his analysis finds that the costs of the lockdown measures compare poorly against their purported benefits when measured by Quality Adjusted Life Years, or QALY.
"Various cost-benefit analyses from different countries, including some of these costs, have consistently estimated the cost in lives from lockdowns to be at least five to 10 times higher than the benefit, and likely far higher," writes Dr. Joffe.
Instead of resorting to lockdowns, policy-makers must better balance priorities while still protecting those most vulnerable to the virus. Some recommendations for a recalibrated response include:
Better public education on the cost-benefit analysis of conducting lockdowns, and ensure that future consideration of lockdowns factor in more than just COVID-19 cases numbers.
Keeping schools open due to the low morbidity and transmission risks associated with children.
Focus restrictions and protection measures on high-risk populations.
Improve surge capacity in healthcare settings if real-time data suggests a need.
"The decision to adopt repeated or prolonged lockdown measures cannot be based on COVID-19 numbers alone," writes Dr. Joffe. "Instead, we need to better recognize the risks and trade-offs inherent in our public health measures."
To learn more, read the full commentary here.
***
Ari R. Joffe MD, FRCPC is a specialist in pediatrics, pediatric infectious diseases, and pediatric critical care medicine. He has been at the University of Alberta and Stollery Children's Hospital since finishing training in 1995, and is now a Clinical Professor in the Department of Pediatrics, and an adjunct Clinical Professor at the John Dossetor Health Ethics Centre.
For more information, media are invited to contact:
Brett Byers
Communications and Digital Media Manager
613-482-8327 x105
brett.byers@macdonaldlaurier.ca