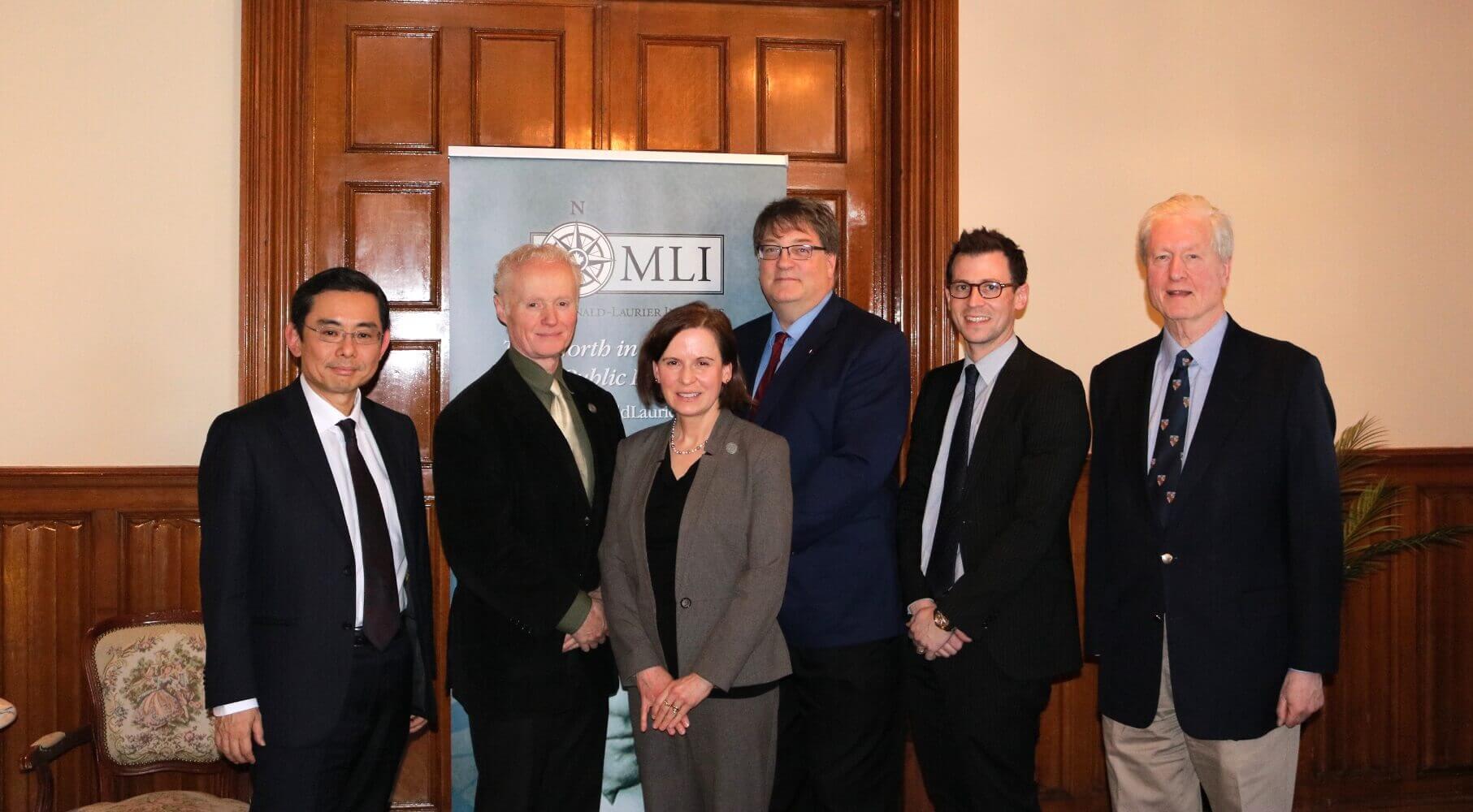 On February 19, 2019, the Macdonald Laurier Institute (MLI) hosted a special private roundtable discussion with a visiting delegation from Asian Forum Japan (AFJ) as part of our growing foreign affairs thought leadership for our Centre for Advancing Canada's Interests Abroad. In this exclusive event, MLI and AFJ exchanged their thoughts on US-China relations from Japan and Canada's perspective.
Key speakers included Dr. Akihiro Magara, Jonathan Berkshire Miller, Ken Coates, Dr. Elinor Sloan, and Dr. Gerald Wright. The conversation was led by MLI Managing Director Dr. Brian Lee Crowley. Dr. Akihiro Magara's remarks were published as an Inside Policy article and Jonathan Berkshire Miller's remarks can be found here.
Speaker Bios
Akihiro Magara is Executive Vice President of Asian Forum Japan (AFJ). Dr. Magara has held key positions in the Koizumi and Abe administrations. He helped to formulate the growth strategy or "third arrow" of Abenomics.
Jonathan Berkshire Miller is an international affair professional with expertise on security, defense, and intelligence issues in Northeast Asia. He is a Senior Fellow with Asian Forum Japan and Director and co-founder of the Ottawa-based Council on International Policy.
Ken Coates is a Munk Senior Fellow with the Macdonald-Laurier Institute. He is the Canada Research Chair in Regional Innovation in the Johnson-Shoyama Graduate School of Public Policy at the University of Saskatchewan.
Shuvaloy Majumdar is a Munk Senior Fellow with the Macdonald-Laurier Institute. He has led the International Republican Institute in Iraq and Afghanistan and served as policy director to successive Canadian foreign ministers in the last government.
Vincent Lacroix-Cuerrier is a Project Officer with the University of Ottawa. Since 2015, he has supported the development of major research partnerships between the University and world-class institutions in Taiwan, Japan, and Mainland China.
Elinor Sloan is a Professor of International Relations in the Department of Political Science and a former analyst with the Department of National Defence
Gerald Wright is a Fellow at NPSIA, Carleton University. He is a former government official with extensive experience in Japan. He has advised the Secretary of State for External Affairs and the Minister for International Trade.