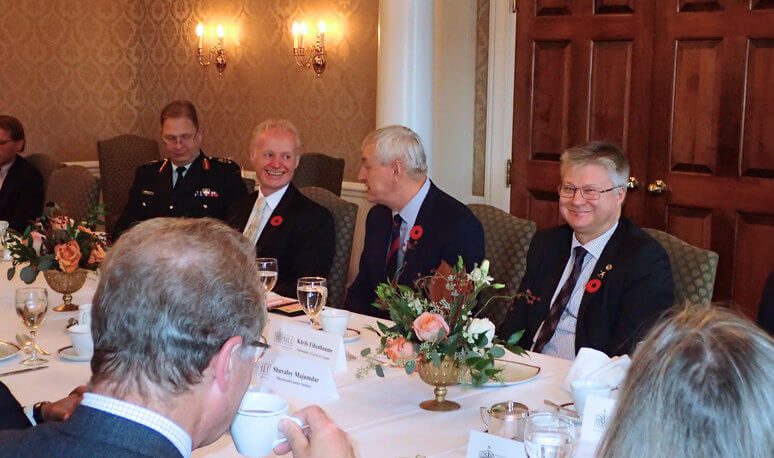 The Macdonald-Laurier Institute held a roundtable discussion featuring Brigadier-General (Ret'd) Jānis Kažociņš, National Security Adviser to the Latvian President and Secretary to the National Security Council at the Office of the President of Latvia.
Check out the photos from the event here.
The Macdonald-Laurier Institute's emerging Centre for Advancing Canada's Interests Abroad, with the support of the Embassy of Latvia in Canada, hosted the event.
The event brought together thought leaders on defence and security on the event topic: Canada and Latvia: Defending Against the New Russian Threat.
Canada is the lead country for NATO's Enhanced Forward Presence (EFP) Battlegroup in Latvia, contributing more than 450 of the over 1,100 foreign NATO member ground troops in this EFP. Canada had participated in previous NATO deterrence measures in Eastern Europe, such as deploying air, ground, and maritime elements as part of Operation Reassurance since 2014. However, this mission is different, both in terms of size as well as in terms of its location in the Baltics, which is now the frontline of this new, unstable frontier with Russia. Unlike its NATO European partners, it also takes place on different continent, thousands of kilometers from Canada's shores.
The possible risks inherent with this mission cannot be ignored. Even as NATO attempts to buttress deterrence, it confronts a Russian state that has proven particularly adept at hybrid or asymmetric warfare – one that combines the use of conventional warfare, covert or irregular warfare, cyber attacks, political disinformation, propaganda campaigns, and other tactics. Hybrid warfare is meant to keep an adversary off balance and make it difficult for them to assess the threat or formulate an adequate response.
This is a particular concern in the Baltic region, given that all three Baltic members of NATO bordering Russia are geographically and logistically isolated from the rest of the Alliance. That is why Canada needs to be fully aware about and prepared for the possible risks associated with this mission. But it is also a broader global security challenge – one that Latvia, Canada, and the West in general must confront.