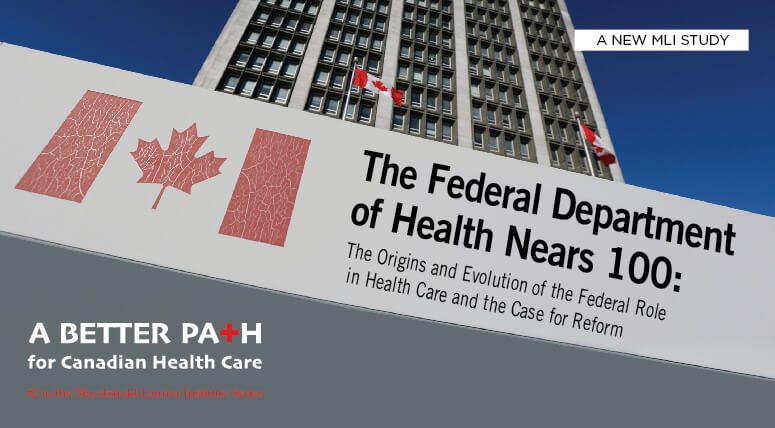 OTTAWA, ON (August 16, 2018):  Although most Canadians tend to think of health care as being a responsibility of the provinces and territories, the federal government has slowly yet steadily intruded on provincial jurisdiction when it comes to health. With the federal Department of Health centenary in 2019, now is the time to re-examine the past and present of Ottawa's now $43-billion role in health care.
To help politicians, media, and the general public better understand the federal role in Canadian health care, MLI has released a new report titled The Federal Department of Health Nears 100: The Origins and Evolution of the Federal Role in Health Care and the Case for Reform.  
Authored by MLI Munk Senior Fellow Sean Speer, this paper examines how Ottawa's role has expanded over the past 100 years, how this expansion fits into our current health care model, and what the federal role means in terms of encouraging and discouraging positive health care reforms for better health outcomes. Building on an earlier MLI report from Wayne Critchley and Richard Owens, Speer sets out a positive yet narrow vision for the role of the federal government in our health care system.
Ottawa has become a key player in the form of federal transfer payments to the provinces and territories, pandemic preparations, drug approvals, public health initiatives, and health-related research. Federal spending on health (including the Canada Health Transfer) now exceeds $43 billion per year representing more than 15 percent of total program spending in Ottawa's budget. Some of this expansion is to be expected due to the changing nature of medicine, health care and other related areas, but a major factor is simply federal overreach.
Speer's key finding is that to move forward on improving health care, the scope of the federal role should be limited.
The full report is available here.
"As the Trudeau government contemplates an expansion of the federal role in Canadian health care, this paper's analysis points in another direction – one that narrows the ambition of federal involvement in health care and instead grants the provinces and territories greater flexibility to experiment with different models of reform," writes Speer.
The paper sets out a number of key recommendations for policy makers, including:
Reduce federal spending that duplicates or encroaches on provincial responsibility for health care administration and delivery;
Reform the Canada Heath Act to enable greater provincial and territorial experimentation;
Review the Department of Health's regulatory role to minimize duplication and overlap with other governments;
Explore options to devolve responsibilities for First Nations and Inuit health
Launch a comprehensive review of federal spending in health-related areas
"Adopting these recommendations would not eliminate the federal role in health care," Speer explains. Instead, they would help "reshape the status quo in the name of leveraging the strengths of federalism to achieve better outcomes for Canadians."
To learn more about the evolution of Ottawa's role in health care and how it could be improved, read the full report here.
***
Sean Speer is a Munk Senior Fellow at the Macdonald-Laurier Institute. He previously served in different roles for the federal government including as senior economic advisor to the Prime Minister and director of policy to the Minister of Finance.
For more information please contact:
Brett Byers-Lane
Communications and Digital Media Manager
613-482-8327 x105
brett.byers-lane@macdonaldlaurier.ca