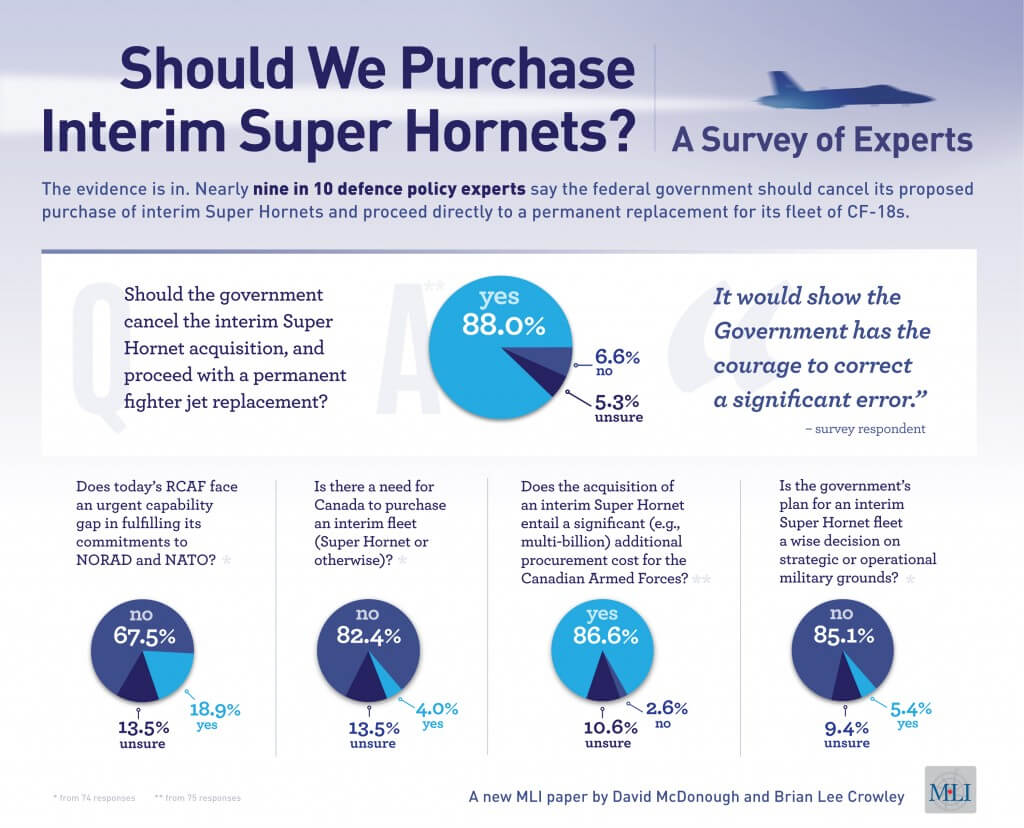 In a new survey, 88 per cent of the country's top experts on defence and security agreed the government should cancel its proposed interim Super Hornet purchase and proceed with a permanent fighter jet replacement
OTTAWA, June 13, 2017 – Nearly nine in 10 experts in Canada's security and defence community say the federal government's proposal to purchase Super Hornet fighters on an interim basis is a bad idea.
That's the finding from a new paper from the Macdonald-Laurier Institute.
An overwhelming majority of defence and security thought leaders believe "the government's plan lacks merit, is strategically unsound, and ultimately should be cancelled", write authors David McDonough and Brian Lee Crowley.
To read the full paper, titled "Should We Purchase Interim Super Hornets? A survey of the experts", click here.
In November 2016, the Canadian government announced plans to acquire an interim fleet of 18 Super Hornet fighter jets as a stopgap measure to supplement the existing fleet of 76 CF-18s. In addition, it announced an "open and transparent" competition for a permanent fighter aircraft replacement for its CF-18s, which would take up to five years to complete.
According to one respondent, if the government continues with this plan, "The damage to the RCAF and Canada's defence posture would be devastating and permanent." Indeed, 88% of the experts surveyed said the government should cancel the Super Hornet purchase and proceed with a permanent fighter jet replacement. In the words of another respondent, "it would show the Government has the courage to correct a significant error." Only 6.6% were in favour of the purchase, with the rest unsure on this fundamental question.
The Macdonald-Laurier Institute surveyed the country's foremost security and defence policy thinkers and practitioners to get an independent, dispassionate and expert assessment on the merits of the interim Super Hornet plan and its underlying rationale. Potential respondents were selected for their expertise in security and defence generally, although procurement and airpower experts and practitioners were well represented among them.
In total, more than 100 people were initially contacted to undertake the survey, and we received survey responses from 75 individuals (for more information on respondents, see the paper). Participants came from across the political spectrum, and included noted scholars and think tank experts, former senior military officers from all three services, including many former RCAF commanders, and former government officials. Many also had widely differing opinions on such issues as the need for a permanent fighter aircraft competition or what particular aircraft was most suitable for Canadian defence requirements.
In other words, the diverse range of participants encompassed a large part of the security and defence community in Canada, which allowed us to gain access to their collective wisdom on this vital matter.
The survey itself consisted of 8 questions to be answered yes, no, or unsure, which allowed us to aggregate the responses. In so doing, we were able to assess their collective views on this matter and gauge, in an "evidence-based" manner, whether there is any broad consensus on the wisdom of the government's plan – from its key justifications to its costs to whether the decision should be reversed.
Today, the government is in a very public spat with Boeing, the Super Hornet manufacturer, owing to its decision to ask the US Commerce Department and International Trade Commission to investigate subsidies for Bombardier's CSeries aircraft. As a result, Ottawa suspended talks with Boeing on the interim Super Hornet purchase. The government's recent defence policy statement also now only refers to the "potential" acquisition of an interim aircraft, omitting even a reference to the Super Hornet.
"Both of these developments provide a welcome opportunity for the government to reconsider this hasty procurement decision", write McDonough and Crowley. "As a government publicly committed to 'evidence-based decision making,' it should consider the opinions of the vast majority of experts in the field".
***
David McDonough is Deputy Editor at the Macdonald-Laurier Institute and a Research Fellow at Dalhousie University's Centre for the Study of Security and Development.
Brian Lee Crowley is the Managing Director of the Macdonald-Laurier Institute.
The Macdonald-Laurier Institute is the only non-partisan, independent national public policy think tank in Ottawa focusing on the full range of issues that fall under the jurisdiction of the federal government.
For more information, please contact Mark Brownlee, communications manager, at 613-482-8327 x105 or email at mark.brownlee@macdonaldlaurier.ca.