The latest edition of the Macdonald-Laurier Institute's magazine remembers the contributions to Canada of Sir John A. Macdonald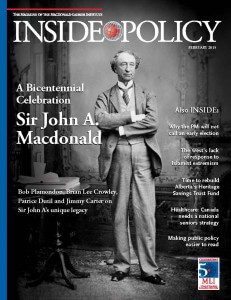 OTTAWA, Feb. 6, 2015 – He distilled the ideas and institutions that today place Canada at the forefront of the nations in the world. And yet not enough has been done to mark the 200th anniversary of the birth of Canada's first Prime Minister, Sir John A. Macdonald, which passed in January.
Inside Policy, the flagship magazine of the Macdonald-Laurier Institute, seeks to change that.
Released in the year of his bicentennial, the February 2015 edition is devoted to remembering and breathing new life into the legacy of the man who created Canada.
To read the magazine, click here.
"The 200th anniversary presented a unique opportunity to address many of the myths that have grown around Macdonald's memory, but the work has only begun", writes Patrice Dutil, a professor of politics and public administration at Ryerson University.
Included in this edition's look at Canada's first prime minister:
Author and public policy consultant Bob Plamondon examines the values, principles, unique skills and circumstances that made Macdonald so instrumental in uniting the colonies for Confederation.
MLI Managing Director Brian Lee Crowley "interviews" Macdonald using quotes from his famous speeches and other recorded remarks.
Dutil laments that more hasn't been done to recognize Macdonald's contributions to Canada.
Former U.S. President Jimmy Carter, in an item looking back at the legacy of Canada's first prime minister, calls Macdonald's efforts to unite French and English Canadians a "shining moment for the world".
Crowley tugs on some of the present-day strings that show just how much Macdonald has influenced 21st century Canada.
This edition of the magazine also includes the latest contributions to the most important public policy debates.
Stanley Hartt says those who expect Prime Minister Stephen Harper to call an early election are going to be sorely mistaken.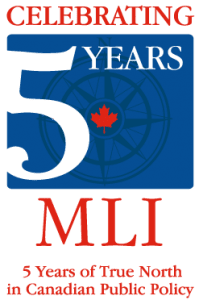 Western University Professor Salim Mansur argues that countries such as Canada and France have failed to devise a credible policy to counter the Islamist war against the West.
Resource engineer Mike Priaro says it's time for the province of Alberta to take a different approach to investing the revenue it collects from natural resources.
Canadian Medical Association President Dr. Chris Simpson says the federal and provincial governments need to get seniors out of expensive and overcrowded hospital beds and into long-term care facilities or back to their homes.
Andrew Rodych, a strategic affairs and public policy advisor, cajoles bureaucrats to rid government laws and regulations of overcomplicated language.
To read the full version of the magazine, click here.
***
Inside Policy, edited by James Anderson, is published six times a year.
The Macdonald-Laurier Institute is the only non-partisan, independent national public policy think tank in Ottawa focusing on the full range of issues that fall under the jurisdiction of the federal government. Join us in 2015 as we celebrate our 5th anniversary.
For more information, please contact Mark Brownlee, communications manager, at 613-482-8327 x105 or email at mark.brownlee@macdonaldlaurier.ca.