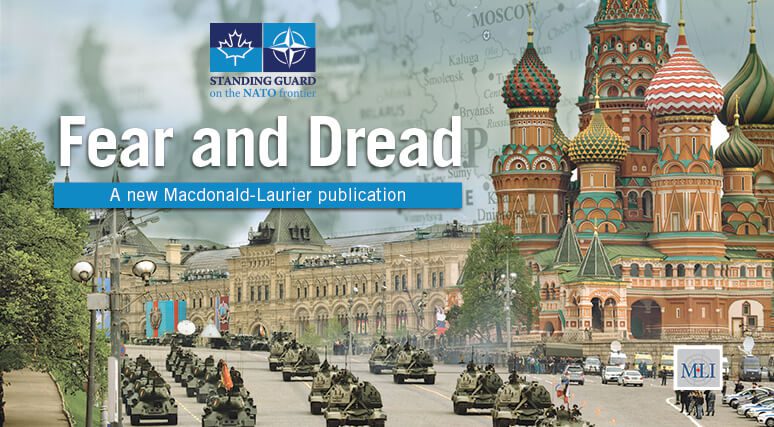 OTTAWA, ON (July 31, 2018): Despite the internal challenges facing NATO, most notably a rocky and uncertain relationship with the Trump administration in the US, the organization's most immediate problem is an external one: how should the Alliance meet the sustained Russian challenge to European security and stability?
In a new MLI report titled Fear and Dread: Russia's strategy to dismantle North Atlantic and European security cooperation, the multidimensional nature of the Russian threat is explored in greater depth. The report finds that NATO must work harder to develop its capacity in Eastern Europe and the Baltics to deter and defend against an increasingly hostile Russia.
Authored by Dr. Alexander Moens with contributions from Cornel Turdeanu, this report is the latest in a project that studies Russian activity in Eastern Europe, and the role that Canada and its NATO allies have to play to counter Russian aggression.
Specifically, this latest report examines the domestic and foreign goals that Moscow is attempting to accomplish, as well as the means through which Russia is testing NATO's Eastern Front.
"Russia threatens NATO, the European Union, and all democracies of the Euro-Atlantic region," write Moens and Turdeanu. They suggest that Russia poses a threat in three ways: "by conducting intimidating military exercises on NATO's border, by making overt threats to NATO members near its borders as well as partners such as Sweden, and by discarding established arms control and political agreements pertaining to the European theatre concluded in the 1990s."
Although these might not seem like direct threats to Canada, the authors caution that "because of NATO's Article 5 collective defence clause, all Allies are at risk when one is threatened."
In addition to providing the rationale for why NATO needs to step up against Russia's aggressive military posturing, the report also makes extensive commentary on Russia's active information war against Western countries, including that its "manipulative influence inside Western political debates comes at a time when majority and minority rights are clashing."
"The military threat is combined with an information warfare campaign whose goal is nothing less than breaking up the political, economic, and military framework of European and North Atlantic cooperation."
The full report is available here.
Over the past two decades, Moscow's actions suggest that Russia wants to fragment Western Alliances, including NATO, in a play to have greater power and sway in the region. Understanding Russia in this context, NATO has a great deal of work to do to build up capacity in Eastern Europe in order to deter Russian continued adventurism.
In order to deter and defend against Russia, Canada and other Western countries are rightly standing guard in the Baltics and Eastern Europe, putting in practice the principle of liberal democracies working together to uphold the right of territorial integrity, democratic process, and individual freedoms.
"There is no need to be provocative," write Moens and Turdeanu, "but there must be ample proportionate strength to ensure that Russia sees the boundaries of its own plans and actions."
To learn more about Russia's challenges to Europe, NATO, and Western security, read the full report here.
***
Dr. Alexander Moen's is Professor and the Chair of Political Science at Simon Fraser University in Vancouver, and a Senior Fellow at the Macdonald-Laurier Institute. He teaches American Foreign Policy and the Political and Security Relations between Europe and North America.
Cornel Turdeanu is a Political Science MA student at Simon Fraser University, focusing on NATO in Eastern Europe, and is Dr. Moens' research assistant. He has recently completed a Co-op work-term with the United States Department of State in the Political-Economic Section at the US Consulate General in Vancouver.
For more information please contact:
Brett Byers-Lane
Communications and Digital Media Manager
613-482-8327 x105
brett.byers-lane@macdonaldlaurier.ca