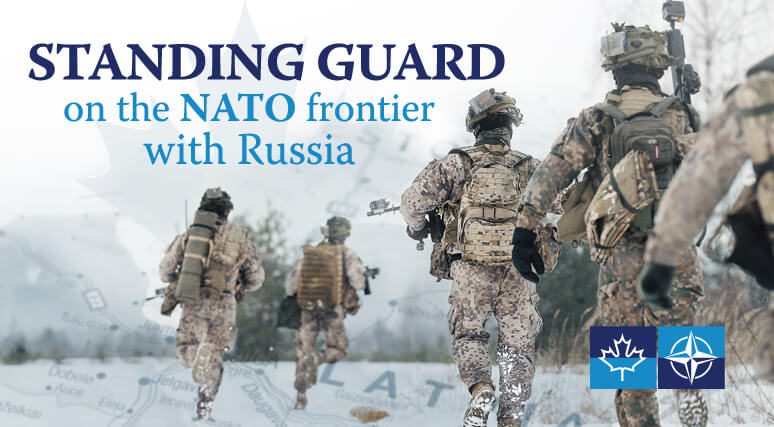 OTTAWA, ON (June 11, 2018): The Macdonald-Laurier Institute has been at the forefront of discussion on NATO's defence of the Baltics, especially in relation to the threat posed by Russia. We are pleased to announce a new project that aims to explore what NATO could do to better secure its Eastern frontier.
Titled Standing Guard on the NATO Frontier with Russia, this project will create a platform for the leading experts on such topics as Canada's mission in Latvia, Russia's hybrid warfare strategy and how NATO should respond, and an examination of the dangers of Russian disinformation campaigns.
To kick off this project, MLI will be hosting a high-level panel event, titled An Enduring Commitment: Trans-Atlantic Security and Canada's Mission in the Baltics. This June 13 event will examine the Canadian-led enhanced Forward Presence in Latvia, including the logic behind the mission and the need for Canada to demonstrate our commitment to our NATO allies.
Speakers include RMCC Professor Joel Sokolsky, who is one of the co-authors of the first paper to be released as part of this project; Richard Fadden, former national security advisor; Professor Elinor Sloan from Carleton University, and Stephen Blank from the American Foreign Policy Council.
To continue to lead this important discussion, MLI is also pleased to welcome Alexander Moens, professor and chair of Political Science at Simon Fraser University, to our distinguished team of senior fellows.
"With 450 troops stationed in Latvia, Canada has a key role in the defence of freedom in the Baltics and Eastern Europe," said MLI Managing Director Brian Lee Crowley. "Dr. Moens' expertise will prove invaluable in helping to understand the nature of the threat posed by Russia and how Canada and its allies must respond."
Dr. Moens has done extensive work on the post-Cold War role of NATO and Russia's strategic goals vis a vis Europe and North America. With his wealth of foreign affairs and security expertise, MLI will be in an even stronger position to guide and shape the foreign policy and defence conversation in Canada and abroad.
"We look forward to Dr. Moens' contribution to the broader discussion on the threats and responsibilities of NATO in an increasingly dangerous world," added Munk Senior Fellow for Foreign Policy Shuvaloy Majumdar.
Dr. Moens will be authoring one of the papers to be released in this project. In addition, on June 15, he will be presenting his findings at a conference in Riga, Latvia.
"It's an honour to be affiliated with a top Canadian think tank like MLI undertaking such important work on European security," noted Dr. Moens. "I look forward to contributing to its thought leadership on these issues in the months ahead."
For more information media are invited to contact:
Brett Byers-Lane
Communications and Digital Media Manager
613-482-8327 x105
brett.byers-lane@macdonaldlaurier.ca