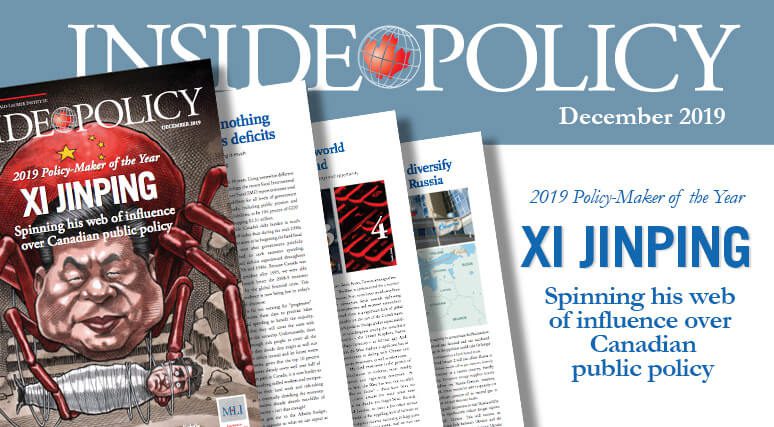 OTTAWA, ON (December 12, 2019): Every year, the Macdonald-Laurier Institute names the person or institution that has had the greatest impact – for good or ill – on Canadian public policy as Canada's Policy-Maker of the Year.
But 2019 was not defined by a Canadian political leader. In fact, as MLI senior fellow Charles Burton explains in our Policy-Maker of the Year cover story, the figure who has most influenced Canadian public policy is not even Canadian.
We have had to announce, to our great regret, that the Policy-Maker of the Year is Chinese Communist Party General-Secretary Xi Jinping, though his influence and his impact on public policy is hardly in the best interests of Canadians.
Take for instance China's aggressive and grossly disproportionate response to the lawful detainment of Huawei CFO Meng Wenzhou on a US extradition request – ranging from the hostage-diplomacy of Canadians Michael Kovrig and Michael Spavor to the unjustified non-tariff barriers on Canadian agriproducts. And, to their shame, Canadian business leaders and retired politicians have been quick to advocate for Canada to abandon the rule of law and return Ms. Meng to China.
"Canada's leaders need a wake-up call on how Xi Jinping and his regime are reaching into every corner of Canadian society," said MLI Managing Director Brian Lee Crowley. "It is no overstatement to say that Xi is the top Canadian policy-maker this year, no matter how much it hurts to admit it. But it doesn't have to be this way. There are steps that can be taken to ensure that Canadians' interests are protected."
As Burton explains, Xi has even managed to silence our self-described "progressive" government despite mounting evidence of egregious human rights abuses in China, such as the mass internment and cultural genocide of Muslim Uyghurs and Kazakhs, the repression of Tibetans, and more.
China has also been able to reach deep into Canadian society, whether we are talking about Canadian businesses, universities, diaspora groups, and politicians of all kinds.
Mr. Xi has also shown a significant appetite to slowly accumulate stakes in valued strategic industries in Canada – from natural resources and infrastructure to advanced technology. Of particular concern has been the possible role of Huawei in our 5G networks. If approved, this could be Xi's greatest achievement in shaping Canada's international policy.
According to Munk senior fellow Duanjie Chen and China expert Margaret McCuaig-Johnston, who are also writing in this issue, Canada needs to show greater resolve in dealing with Mr. Xi – and they outline important steps in that regard. Canada has an opportunity, as argued by MLI program manager Joseph Quesnel, to help break China's market dominance in rare earth elements. We also need to stand up to China's brutal crackdown in Hong Kong, as noted by Yale University scholar Dawn Brancati and Nathan Law, MLI's ambassador on Canada-Hong Kong policy.
Yet, as other articles in this issue of Inside Policy reveal, greater attention should be paid to Canada's overall place in the world – from dealing with fundamental global challenges, as noted by former national security advisor to the PM (and member of MLI's Advisory Council) Richard Fadden, to exploring our potential role in meeting global energy demand, which are explored by senior fellow Marcus Kolga and energy expert Jeff Kucharski.
Also in this issue, beyond foreign policy, MLI distinguished fellow Jack Mintz discusses the Liberal government's reckless deficits, Munk senior fellow Ken Coates clarifies the meaning of the UN Declaration on the Rights of Indigenous Peoples, and MLI policy intern Hannah Ahrendt offers a deeply personal perspective on medical assistance in dying.
This issue also includes insightful articles on the role of First Nations in the resource economy, the impact of the Marshall court ruling, the state of conservativism in Canada, how the new government will approach the new global economy, the future of the Canadian telecom industry, and more.
To read the articles in full, check out our December issue of Inside Policy here.