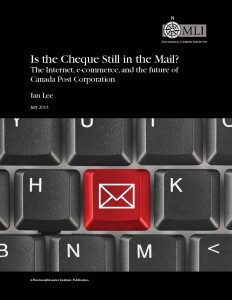 Carleton University professor Ian Lee says the new government should carry out move to community mailboxes
OTTAWA, Oct. 27, 2015 – Canada Post's abrupt decision to put on hold plans for ending door-to-door delivery is a bad idea, says Macdonald-Laurier Institute author Ian Lee.
On Monday, one week after Canadians elected a new Liberal government, the post office announced it was suspending the previous government's plan to replace costly door-to-door mail delivery with community mailboxes.
But, Lee says, delivering directly to people's homes is a luxury the mail carrier still can't afford. Canadians are sending less mail than in past years, and without major changes it will become a big drain on government revenues.
"Once the new Liberal government studies the situation they will realize that the arithmetic of steady annual declines in postal volumes faced by the former Conservative government has not changed", says Lee in a statement.
"The annual cost saving of a half-billion annually by ending home delivery for the 32 per cent of Canadians still receiving it will have to be paid".
Lee is the author of "Is The Cheque Still In The Mail?", a 2015 MLI paper recommending changes for making Canada Post financially viable.
He says that ending door-to-door delivery service should just be the start.
He also recommends the federal government end Canada Post's monopoly on mail delivery and reduce the number of days on which mail is delivered from five to three.
***
Ian Lee teaches strategic management at Carleton University's Sprott School of Business.
The Macdonald-Laurier Institute is the only non-partisan, independent national public policy think tank in Ottawa focusing on the full range of issues that fall under the jurisdiction of the federal government. Join us in 2015 as we celebrate our 5th anniversary.
For more information, please contact Mark Brownlee, communications manager, at 613-482-8327 x105 or email at mark.brownlee@macdonaldlaurier.ca.