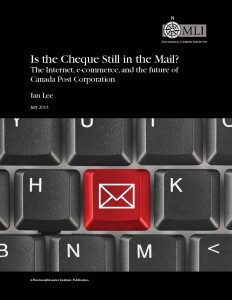 Incremental reform will not save Canada's beleaguered mail carrier, says Carleton University business professor
OTTAWA, July 23, 2015 – The federal government needs to stop tinkering around the edges and deliver some serious reform to ensure Canada's national postal service doesn't get lost in the mail, says business professor Ian Lee in a new paper for the Macdonald-Laurier Institute.
Replacing all door-to-door mail delivery with community mailboxes, reducing the number of days on which mail is delivered, franchising rural post offices, and eliminating Canada Post's monopoly on mail delivery are among Lee's recommendations.
He also warns the government against privatizing Canada Post. This will not fix the corporation's structural problems and the business model is so poor that no private sector organization would want to take it on anyway.
These policy changes will deliver "a 'bridge to the future' to facilitate CPC's transformation from a highly regulated mail delivery entity with prices set by government to a competitive parcel delivery entity with prices and service determined by market conditions", Lee writes.
To read the full paper, titled "Is The Cheque Still In The Mail? The Internet, e-commerce, and the future of Canada Post Corporation", click here.
These changes are necessary, Lee says, because of the rapidly-changing business environment in which Canada Post is operating: Canadians are sending less mail than in years past.
Between 2006 and 2013, the volume of mail per address dropped 30 per cent even as the number of addresses grew by 1.3 million. The growing use of the Internet for communication and financial transactions will only reduce this further, Lee predicts.
These are just some of the reasons why mail delivery is shaping up to be a big issue in the federal election campaign scheduled for this fall.
The governing Conservatives have overseen Canada Post's plan to replace door-to-door mail delivery with community mailboxes, a decision both the NDP and Liberals have promised to reverse if they form the next government.
Lee, a professor of business at Carleton University, notes that door-to-door delivery costs more than twice as much as servicing community mailboxes, and only 32 percent of Canadians still get this level of service. Many households that still receive door-to-door delivery are located in relatively wealthy urban neighbourhoods such as Shaughnessy in Vancouver, Rockcliffe in Ottawa, the Annex in Toronto and Outremont in Montreal, making it both an issue of fairness and substantial cost savings.
Lee also says it's time to go further.
He recommends Canada Post reduce the number of days on which mail is delivered to households to three. This, he says, would help Canada Post's bottom line; delivery represents 39 per cent of its costs.
Lee says it's also necessary for Canada Post to franchise its remaining corporately-run postal outlets, such as what already takes place at stores such as Shoppers Drug Mart in urban areas. Closing down any remaining standalone post offices and outsourcing those services would extend Canada Post's reach while greatly reducing operating costs.
Lee also suggests opening up Canada Post up to competition by eliminating its monopoly on mail delivery. This, he says, will help to encourage innovation and structural change at one of Canada's oldest institutions.
Among the other recommendations Lee makes:
Consolidate mail processing plants: The amount of mail sent is only going to continue to decrease in the future, so there is little reason for CPC to maintain the 21 processing plants currently working across the country.
Implement the Industry Canada Rural Broadband Strategy by 2020: Extending access to the remaining Canadians who don't have high-speed Internet will help them adapt to the necessary reforms to the postal service.
Deregulate CPC pricing for letter mail: CPC customers currently do not pay the true cost of sending mail. CPC should not have to appeal to the government to set the price of stamps.
Revise the Canadian Postal Service Charter and the Universal Service Obligation: This is a change that would be necessary to implement the reduced service recommendations.
Many of these changes can be accomplished through attrition rather than layoffs at Canada Post, Lee writes – that is, simply not replacing older postal workers as they retire.
***
Ian Lee teaches strategic management at Carleton University's Sprott School of Business.
The Macdonald-Laurier Institute is the only non-partisan, independent national public policy think tank in Ottawa focusing on the full range of issues that fall under the jurisdiction of the federal government. Join us in 2015 as we celebrate our 5th anniversary.
For more information, please contact Mark Brownlee, communications manager, at 613-482-8327 x105 or email at mark.brownlee@macdonaldlaurier.ca.