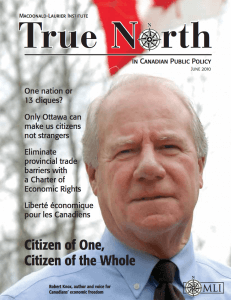 The National Post is lauding the Macdonald-Laurier Institute's work on dismantling trade barriers as a potential solution for liberating the movement of goods across provincial borders.
MLI's 2011 paper, "Citizen of One, Citizen of the Whole", lays out a roadmap for freeing up trade between the provinces.
The Post uses it to show that the federal government has all the power it needs to fix a problem that has for too long made it difficult to do business – or even find a job – across provincial borders.
"Section 91 of the Canadian Constitution, which gives Ottawa not merely 'Trade and Commerce' but all powers not explicitly reserved to the provinces, is all the authority the federal government needs to strike down trade barriers within Canada", the Post writes in an editorial.
The recently-deceased Robert Knox co-authored the paper with MLI Managing Director Brian Lee Crowley and John Robson.
The Macdonald-Laurier Institute has long been committed to the cause of economic freedom for Canadians. A recent issue of Inside Policy, MLI's magazine, looked at the issue in-depth.
Crowley has also written several columns on the subject for the Globe and Mail and other papers.