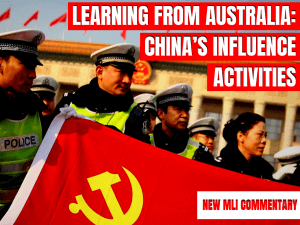 OTTAWA, ON (November 2, 2018): For over a decade, Australia has been in the Chinese Communist Party's crosshairs in the form of political influence activities. The Australian public is becoming more aware of this reality in large part due to the work of Clive Hamilton – author of the best-selling book Silent Invasion: China's Influence in Australia.
However, Canadians remain largely ignorant to the fact that Beijing is increasingly attempting to infiltrate and influence our political, social, and economic systems. What should we be doing to prevent and protect against these sorts of operations?
To shed light on this issue, MLI has released a new commentary titled China's Influence Activities: What Canada can learn from Australia. Based on remarks by Clive Hamilton at an MLI panel event, this commentary examines the strategy, tactics, and reasons behind China's influence operations. It offers a compelling and sobering analysis of the Australian experience and provides lessons for Canada as we begin to face similar challenges.
"Canada's place in the Chinese Communist Party's (CCP's) strategic map of the world is as important as Australia's in its own way," writes Hamilton. "It too has been subject to a 'full court press' of influence operations."
The main threat identified in the commentary is that Beijing has been working to sway elite opinion, attempting to get decision-makers in Western countries to conform with the Communist Party's agenda.
"The CCP has built a complex network of agencies tasked with exerting influence abroad. The agencies deploy sophisticated techniques to influence, persuade, and coerce others to act in ways approved by Beijing. The techniques have been refined over decades and are far more extensive, intrusive, and secretive than those used by other nations."
Through front groups, business associations, cultural and religious groups, and much more, Beijing works to influence the Chinese diaspora community and the target country's opinion leaders. The CCP's influence campaign has yielded dividends for Beijing, although Australia is pushing back.
Hamilton identifies new laws against foreign interference as a useful first step. Other measures, such as tighter rules on foreign investment into critical infrastructure like 5G telecommunications technology, are needed to counter future threats.
However, Hamilton argues that Australia and indeed much of the West are still far away from an institutionalized mindset of "China-vigilance," which is necessary to rebuff the CCP's sustained attempts to influence, interfere, and subdue.
"There is much work [to do] before we can be confident that our sovereignty and democratic processes are no longer subject to unwelcome foreign influence."
To learn more about Chinese influence operations in Australia and what Canada can learn from Australia's experience, read Clive Hamilton's full commentary here.
***
Clive Hamilton is an Australian author and public intellectual. Since 2008, he has been Professor of Public Ethics at Charles Sturt University in Canberra.
For more information please contact:
Brett Byers-Lane
Communications and Digital Media Manager
613-482-8327 x105
brett.byers-lane@macdonaldlaurier.ca