Macdonald-Laurier Institute Senior Fellow Ken Coates has published a book that examines the lasting impact the Idle No More movement will have on Aboriginal Canadians and the country as a whole.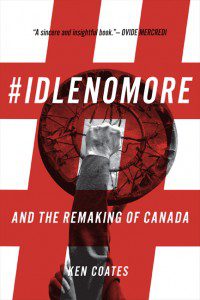 #IdleNoMore and the Remaking of Canada relives the movement, which first got off the ground in 2012 in response to a federal omnibus budget bill, and looks at how First Nations youth continue to experience it today.
The unique elements of Idle No More are what helped make it so successful, Coates says. The fact that it was grassroots, had its origins with female leaders, its youth focus, its peacefulness, its lack of centralized leadership and its use of social media all helped push Aboriginal affairs to the fore.
Ken Coates has "established a timeline and produced a work to help others better understand what was accomplished by the Idle No More movement, and how its legacy lives on", reads a review in the Globe and Mail.
#IdleNoMore was released on April 4, 2015 by the University of Regina Press.
For more information on the #IdleNoMore book, please visit the publisher's website.