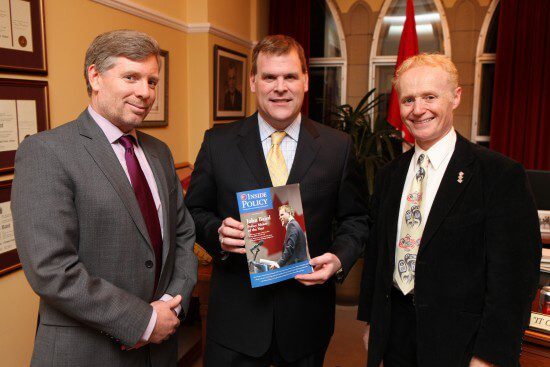 Cabinet MVP profiled by Robin Sears and Colin Robertson
OTTAWA, December 11, 2013 – The final 2013 issue of the Macdonald-Laurier Institute's magazine, Inside Policy, features several year-end features including profiles of MLI's "Policy Maker of the Year," Foreign Minister John Baird.
In an insightful look at Stephen Harper's most valuable cabinet minister, Robin Sears examines the background, the record and the character of the dynamic leader of Canada's Foreign Service. Sears notes how Baird has evolved and matured as a politician and asks the minister about the legacy he hopes to leave behind when he moves on from Foreign Affairs.
In a companion piece, former diplomat Colin Robertson examines Baird's approach to the job, his management of some of the most challenging files, and his leadership on several personal priorities. Robertson also offers some recommendations on what it will take for Baird to have a lasting impact on Canadian foreign policy.
"At a time when there are so many stress points in the area of international relations, John Baird has deftly handled challenging issues involving Russia, Iran, Syria, Libya and Sri Lanka while simultaneously advancing fundamental human rights as part of his 'dignity agenda'," says MLI managing director Brian Lee Crowley.
Last year's top policy maker was former Bank of Canada governor Mark Carney, who is now governor of the Bank of England.
Also in this edition of IP, recalling Finance Minister Jim Flaherty's October 2012 musings on the issue, Stanley Hartt examines a possible privatization of the Canada Mortgage and Housing Corporation. While emphasizing the need for a robust set of rules and regulations and arguing that certain of the policy functions carried out by CMHC would need to be retained by the government, Hartt suggests that the approach used by the Australians to accomplish the federal government's exit from housing risk provides a worthy model.
In what IP managing editor Jim Anderson describes as "a comprehensive, compelling and timely analysis", MLI managing director Brian Lee Crowley explains why Canada needs a Senate and lays out a detailed road map to achieve effective renewal of the upper chamber.
"Believe it or not," says Anderson, "Tony Blair's New Labour government actually turned to the private sector to see if patient access could be improved". In this edition of IP, Paul Corrigan explains how Britain's National Health Service achieved shortened wait times and improved productivity. "Is there a lesson in here for Canada?"
Brian Lee Crowley and MLI senior fellow Alex Wilner suggest that 10 years after Canada rejected a US offer to co-operate on North American Ballistic Missile Defence, "much has changed regarding the politics, the threats and the technology, such that BMD is today a far more compelling choice for Canada",
And in "Credit where it's due", the authors of a recent MLI paper — Ian Lee, Geoffrey A. Manne, Julian Morris and Todd J. Zywicki — conclude that proposed regulations on payment cards in the Canadian market will hurt lower-income consumers and small merchants.
Meanwhile, MLI senior fellow Linda Nazareth looked at the numbers on where Canada's job growth is coming from and found the strongest growth in the bottom quartile of earners.
# # #
Inside Policy, edited by James Anderson, is published six times a year. The Macdonald-Laurier Institute is the only non-partisan, independent national public policy think tank in Ottawa focusing on the full range of issues that fall under the jurisdiction of the federal government.
For more information, please contact David Watson, managing editor and communications director, at 613-482-8327 x. 103 or email at david.watson@macdonaldlaurier.ca. On Twitter @MLInstitute