Globe and Mail columnist Jeffrey Simpson referred to a recently-released paper from the Macdonald-Laurier Institute in a recent column on defence procurement.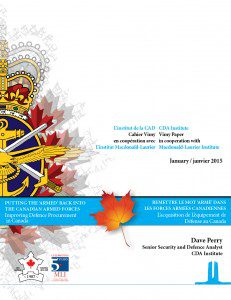 In January, MLI and the Conference of Defence Associations Institute co-released a paper called "Putting the 'Armed' Back Into The Canadian Armed Forces: Improving Defence Procurement in Canada".
Author David Perry, the Senior Security and Defence Analyst with CDAI, outlines the roadblocks the federal government faces in equipping the military with what it needs in the 21st century.
Simpson praises Perry as someone who "writes intelligently on defence issues".
He cites the MLI/CDAI report as evidence that "relations have been strained between the Department of National Defence and the Prime Minister's Office, between DND and other departments, and between industry and the bureaucracy".
At the time of the release, Perry received coverage with The Canadian Press and was the subject of a John Ivison column in the National Post.
He also spoke with CTV News Channel about his findings and penned an op-ed for the Ottawa Citizen.