Writing in the Ottawa Citizen, MLI defence procurement paper author David Perry says that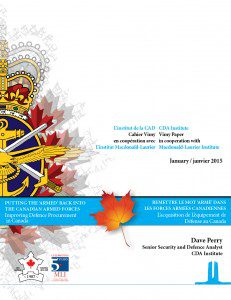 the federal government is facing a unique – and somewhat bizarre – problem in equipping the military.
The government has been unable to spend billions of dollars Parliament has approved for new equipment even though the military needs to replace almost every major piece of military hardware in its inventory.
Perry is the author of "Putting the 'Armed' Back Into The Canadian Armed Forces",a joint release of MLI and the Conference of Defence Associations Institute.
By David Perry, Jan. 21, 2015
The Department of National Defence is facing a bizarre situation. Despite a pressing need for new equipment, and parliamentary approval to replace almost every major piece of military hardware in its inventory, it has been unable to actually spend billions of dollars allocated to equipping our fighting forces. Since 2008, nearly a quarter of DND's procurement funds went unspent every year, more than $7 billion in total. This is a historically unprecedented problem; dating back to the 1970s, the average funds DND left unspent averaged only two per cent a year.
The best example is the replacement of Canada's ageing fleet of CF-18 fighter jets. After the Auditor General's 2012 report slammed the process that led Canada to the F-35, the project was placed on hiatus pending the completion of a seven-point plan. That effort was finished last spring, but the government has not yet made a decision 33 months after it charted a new way forward.
While the unused money has significantly helped the federal bottom line, making a major contribution to reducing the deficit, DND has lost millions in purchasing power due to inflation. Without an infusion of additional procurement funds, fewer, or less capable, ships, aircraft and trucks can now be afforded within the current budget. This also means the military must wait longer for new equipment, which in some cases has been on order for over a decade. Meanwhile current fleets become increasingly obsolescent, or in the case of the navy's supply ships, are taken out of service years before they can be replaced.
A new Defence Procurement Strategy (DPS) was launched almost a year ago by the federal government. While this is mostly oriented towards improving the domestic economic benefits of defence acquisitions, it is also intended to facilitate timely delivery. The strategy is a good start, but must be accompanied by other changes.
First and foremost, the capacity of the acquisition workforce must be improved. Over the last decade, the number of big and complex defence procurements increased significantly but the acquisition workforce did not, resulting in too few people with too little experience spending too little time on complicated files before rotating off to their next job. The system needs more acquisition experts, increased access to training and professional development, and retainment in key positions. The workforce should then be assigned based on a prioritized shortlist of key projects, identified through the renewal of the Canada First Defence Strategy (CFDS). Given their huge costs and how critical these capabilities are, the fighter procurement and entire shipbuilding program should top this list.
That same review needs to fundamentally reassess how much of the CFDS procurement plan is still affordable in lieu of lost buying power, budget cuts and inadequate initial funding. Financial resources should be directed to a few key priorities, instead of simply buying a little less of everything, as in the past. This needs to be accompanied by improved efforts to cost defence projects according to an accepted, government-wide life-cycle costing framework that reflects the realities of the Canadian acquisition system.
Although progress has been made, Canadians are still concerned about overly complicated requirements, flawed project costing, strained relationships with the defence industry, and several failed procurements. Until trust in the system is restored, acquisitions will suffer.
The DPS's new governance structure should help, but ultimately, trust in the defence procurement system won't be restored until it can demonstrate repeated success. Some recent projects have gone well, such as the upgrade of the navy's frigates. But more change is needed to prevent billions in much needed procurement funds going unspent each year.
David Perry is the Senior Security and Defence Analyst at the CDA Institute (cadinstitute.ca), and the author a new research paper, "Putting the 'Armed' Back into The Canadian Armed Forces", published in partnership with the Macdonald-Laurier Institute (macdonaldlaurier.ca).