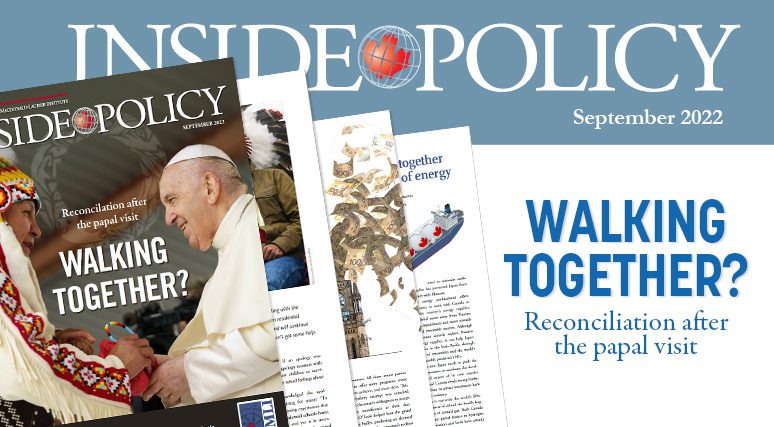 Inside Policy
September 30, 2022
From the editors
The July 2022 visit of Pope Francis was both historic and vital for Indigenous peoples. The trip was built around a series of apologies for the church's role in residential schools and the colonization of Indigenous peoples more generally. In the aftermath of this historic visit, it is important to understand Indigenous expectations, church priorities, and the public interest in this large-scale effort of meaningful reconciliation.
To lead our cover feature, Ken Coates looks at the potential impact of the Pope's visit and his apology when it comes to Indigenous reconciliation. As he notes, "the passion and harm are profound and deep, and learning to really walk together in true friendship is hard work. Real reconciliation will take a long time."
In addition, Melissa Mbarki offers thoughts on what the next steps should be following the papal visit and Chris Sankey points to the issues that really matter to First Nations, Métis and Inuit people. Lastly, Michael W. Higgins provides insight on the broader meaning of the Pope's pilgrimage of penance.
The federal government will continue to play an important role in Indigenous reconciliation. Yet, as Coates reminds us, we also need to be wary about the rapid expansion of government in Canada. In addition, Ryan Alford explores the government's secrecy around its invoking of the Emergencies Act and Lawrence Herman looks at Ottawa's evolving policy on critical minerals.
"Quiet quitting" has become an increasingly talked about trend on social media and even among companies and businesses – and Linda Nazareth sheds light on the nature of this trend and what companies have to do to deal with it.
China continues its aggressive behaviour towards Taiwan. Yet, according to J. Michael Cole, we are now at risk of letting Beijing's excessive belligerence dictate the nature and extent of our relationship with the island-nation. Meanwhile, the war in Ukraine continues into its eighth month. However, there is reason for guarded optimism based on Ukraine's recent battlefield successes – a point explored more fully by Richard Shimooka.
Canada could also use this opportunity to strengthen its energy partnership with Japan, as noted by Jonathan Berkshire Miller and Marie Ascencio. Meanwhile, Heather Exner-Pirot and Robert Murray suggest it is an opportune time to discuss NATO's possible role in the Arctic, especially following Sweden and Finland's decision to join NATO.