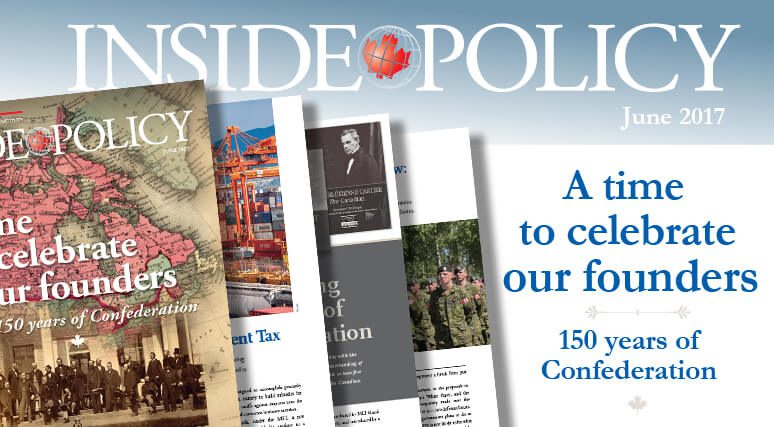 Celebrate the role of our founders in forging Canada into a great nation
OTTAWA, June 26, 2017 – The latest edition of Inside Policy will give readers a new appreciation of Canada's founding.
The June 2017 issue of the Macdonald-Laurier Institute's flagship magazine marks the 150th anniversary of Confederation with a deep dive into MLI's Confederation Series, plus a variety of articles on how we should appreciate our country on this sesquicentennial celebration. The series of papers authored by MLI Munk Senior Fellow Alastair Gillespie, which MLI launched earlier this year, looks at what it means to be Canadian through the eyes of Canada's Fathers of Confederation. Some of Canada's most respected political figures have contributed their views, with Paul Martin writing about Alexander Galt, Preston Manning on George Brown, and Jean Charest and Antionne Dionne-Charest on George-Étienne Cartier.
To read the June 2017 edition of Inside Policy, click here.
In their piece, MLI Managing Director Brian Lee Crowley and Gillespie look at some of the major findings to emerge from the Confederation Series.
"In a world where resurgent nationalism is causing other countries to turn inward, the Canadian model appears increasingly significant", write Crowley and Gillespie.
Also Inside:
Leonid Sirota chides today's commentators for selling short the vision of our founders;
Brian Lee Crowley argues that Confederation's promise of economic freedom for Canadians has been betrayed;
Geoffrey Kellow explains that the diversity of Canada that many prefer to celebrate today in fact has firm roots in Confederation;
Philip Carl Salzman argues that diversity is not "Canada's strength" as many believe, but we are strong because of how well we manage diversity;
Another issue that can be debated in this sesquicentennial year is whether we should celebrate all of Canada's history (as argued by Jack Granatstein) or accept that there are certain episodes that we should be ashamed of (as argued by Noah Richler).
The June 2017 edition of Inside Policy also features articles by: Heather Hall and Ken Coates on the resource potential in Northern Ontario; Patrice Dutil on reforming Canada's democratic institutions; Stanley Hartt on American plans for a Border Adjustment Tax; David McDonough on China's great power ambitions; Brian Lee Crowley on the value of a Japan-India axis as a counter to China; plus much more!
***
Inside Policy, the flagship magazine of the Macdonald-Laurier Institute, is published four times a year.
The Macdonald-Laurier Institute is the only non-partisan, independent national public policy think tank in Ottawa focusing on the full range of issues that fall under the jurisdiction of the federal government.
For more information, please contact Mark Brownlee, communications manager, at 613-482-8327 x105 or email at mark.brownlee@macdonaldlaurier.ca.