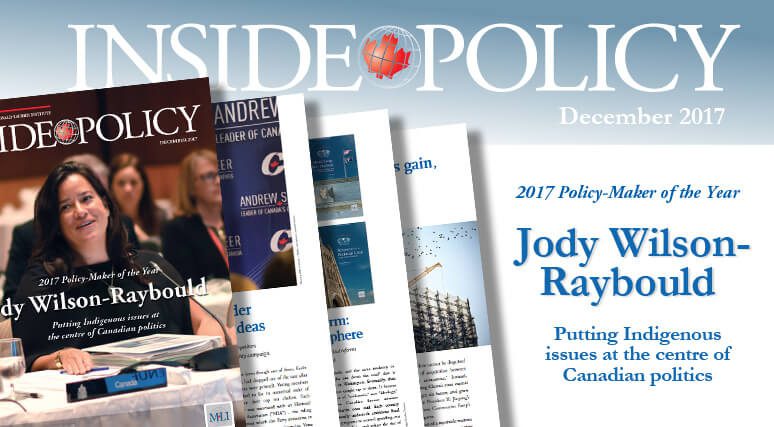 OTTAWA, ON (Dec. 18, 2017): The Macdonald-Laurier Institute is pleased to name Minister Wilson-Raybould as the "Policy-Maker of the Year" in this issue of Inside Policy.
Canada's Justice Minister and Attorney General Jody Wilson-Raybould has a mandate from Prime Minister Justin Trudeau that covers a particularly wide and important range of issues – from marijuana legalization to Indigenous reconciliation to justice reform. She is one of the busiest, most active members of Cabinet.
Kate Heartfield points out in the cover story, "If Justin Trudeau's Liberals want to make a lasting impact on Canadian society, the justice file is key."
Notably, Minister Wilson-Raybould is the first Indigenous person to hold that position. As Ken Coates notes she is, "the most influential Indigenous federal politician in Canadian history. She has shifted, with the full support of the Prime Minister and his cabinet, Indigenous affairs from the margins to the centre of Canadian politics."
To read the December 2017 edition of Inside Policy, click here.
Also Inside:
Stanley Hartt offers advice to the new Conservative leader Andrew Scheer;
Sean Speer and Alex Brill introduce MLI's series, The case for fiscal reform: Lessons from the Anglosphere
Jane Londerville explores the challenge for new homeowners in Canada;
Peter Layton comments on Australia's experience with free trade with China as a warning to Canada;
Robert Hage looks at the impact of the BC tanker moratorium on economic development among Indigenous communities; and
Marcus Kolga offers the written comments that he presented to the UK Parliament on the Sergei Magnitsky Act.
The December 2017 edition of Inside Policy also features articles by: Ken Coates and Bram Noble on regional assessments for resource projects; Philip Cross on tax avoidance; Sean Speer on the state of Canada's public finance, and on what the US should do to alleviate its debt problem; Paul Martin on his personal experience combating Canada's debt; and Duanjie Chen on the possible Chinese purchase of Aecon.
For more information media are invited to contact:
Cole Hogan
Communications Manager
613.482.8237 x105
cole.hogan@macdonaldlaurier.ca
***
Inside Policy, the flagship magazine of the Macdonald-Laurier Institute, is published four times a year.
The Macdonald-Laurier Institute is the only non-partisan, independent national public policy think tank in Ottawa focusing on the full range of issues that fall under the jurisdiction of the federal government.