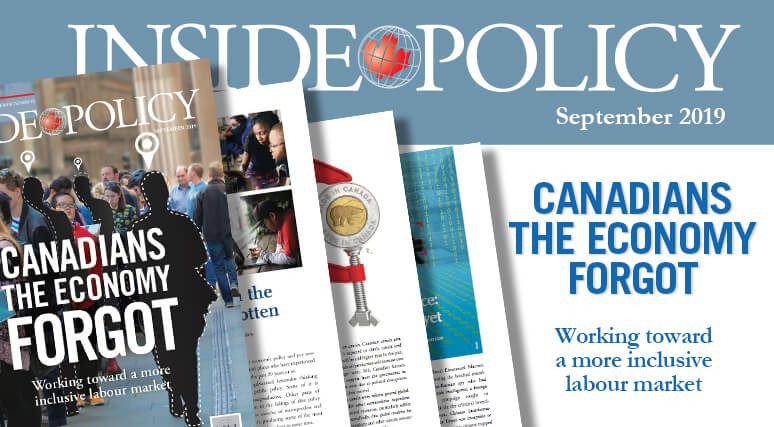 OTTAWA, ON (September 26, 2019): In our latest issue of Inside Policy, MLI authors explore challenges facing the Canadian economy and the need to work towards a more inclusive labour market.
Trump's populist appeal has resonated in the United States partly due to his focus on the "forgotten men and women" facing increasing vulnerabilities in the modern economy. Trump may have few concrete ideas to help them. But, as Munk Senior Fellow Sean Speer writes in our cover story, "he still saw and heard them. That was enough for millions of voters to overlook his flaws and choose him as president."
To prevent a similar populist disruption in Canadian politics, Speer argues that we need to take into consideration the people and places who are economically falling behind in Canada, and offers suggestions on how politics can be more responsive to their interests.
"A political and policy adjustment is needed. We must aim to put the interests of this vulnerable cohort must closer to the centre of our politics. Our public policy framework should signal that we have as much collective interest in their success as those who choose to pursue post-secondary education."
Yet, to build a more inclusive economy, attention also needs to be paid to the concerns about the economic anxiety facing today's young people – a point raised by Uswah Ahsan and Brett Byers. Indeed, Linda Nazareth warns that young people may need to prepare for a delay in the long-expected boomer retirement boom. And a growing number of economic challenges are now on the horizon, according to Stephen Blank.
Speer also argues that we need to ensure that income taxes on "super donors" do not curtail their charitable giving. And Duane Bratt outlines some of the economic benefits that could be accrued from developing small modular nuclear reactors.
This issue also explores China's use of economic coercion against Canadian agriproducts. On that area, according to Munk Senior Fellow Duanjie Chen, "Canada has some significant advantages and China is taking some serious risks."
"China's bans of Canadian agriproducts will not change the global demand for those products. Indeed, China's disruptive play will only cause growing distrust among its trading partners," writes Chen. One possible response is to ban Huawei's involvement in 5G. Brian Lee Crowley outlines the many reasons for doing just that.
In addition to these specific issues, this issue of Inside Policy covers the full-range of public policy issues facing Canada's decision-makers, including:
Management of Canadian health care
Natural resource development
Indigenous reconciliation
Digital foreign interference
Hong Kong and the Middle East
We hope you enjoy the latest edition of Inside Policy.