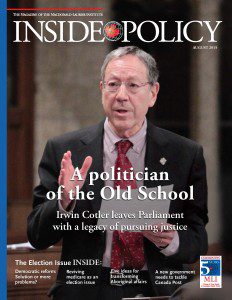 In the August 2015 issue of Inside Policy, the magazine of the Macdonald-Laurier Institute, we take a look at the key issues Canada faces as it prepares to decide who should form the next government.
Canada's leading thinkers on Aboriginal policy, anti-terrorism, democratic reform, income inequality and health care offer their opinions on where Canada needs to go next.
Regular contributor Robin V. Sears takes a look at the career of Irwin Cotler, a member of Parliament who will not be running for re-election, and his legacy of fighting for human rights.