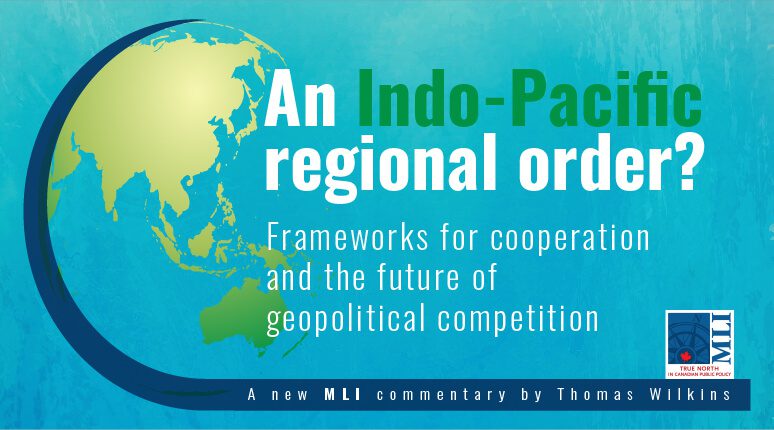 OTTAWA, ON (February 23, 2021): The Indo-Pacific region is of growing importance to Canada and the world's future. But which political frameworks will dominate? How should we be thinking about geopolitical competition in the region?
In a new MLI commentary titled "An Indo-Pacific regional order? Frameworks for cooperation and the future of geopolitical competition," author Thomas Wilkins examines the various mechanisms of alignment that govern the geopolitics of the region.
The Indo-Pacific has increasingly taken on an image of the geopolitical "arena" in which security, economic, and political struggles will unfold.  According to Wilkins, "this is underscored by the prevalence of trade wars, cyber-attacks, misinformation campaigns, military modernization, and disputes over international law and norms, set against the chaos wrought by the COVID-19 pandemic."
"It is therefore pertinent to ask to what degree the necessary regional frameworks are in place and whether they are sufficiently fit to deal with these [challenges]."
In his commentary, Wilkins explains that the conceptual shift from "Asia-Pacific" to "Indo-Pacific" is significant. It accords India a prominent place as a democracy of major geostrategic and economic weight and it emphasizes the centrality of the maritime dimension of the regional order.
Even so, there is significant disagreement between countries in the region regarding what framework would best support an effective, agreeable regional order. Wilkins assesses the main competing frameworks, finding possible challenges facing each one.
The US-led approach focuses on leveraging security alliance to establish a network capable of maintaining regional stability and prosperity. However, the US is still heavily reliant on its bilateral "hubs-and-spokes" alliance system, and recent American retrenchment on the global stage combined with American reticence toward true multilateralism limit this mode's effectiveness. Resolving these issues, Wilkins contends, will be necessary if this framework is to prove viable.
The second model of multilateral and international institutions is anchored in ASEAN, which is characterized by consensus building, quiet diplomacy, and other norms that underpin the "ASEAN way." While the institutional framework is strong, the model suffers from a lack of capacity to make meaningful progress on key issues, particularly when it comes to major security challenges and territorial disputes instigated by countries like North Korea and China.
The third framework is a China-led alternative model that focuses on new forms of institutions, such as the Asia Infrastructure Investment Bank and Belt and Road Initiative, and bilateral partnerships, with a heavy emphasis on both economic and infrastructure development and security. Notably, this model suffers precisely because China's approach to security and territorial concerns is often best described as adversarial and revisionist in nature.
As Wilkins warns, "visions of a Sinic regional order are largely incompatible with those of the Indo-Pacific democratic powers."
With these competing frameworks, Wilkins finds that states in the region will likely align their multilateral strategies with states that share their interests and values.
To learn more about the dynamics at play in the Indo-Pacific, read the full commentary here.
***
Dr. Thomas S. Wilkins is a Senior Lecturer in International Security at the University of Sydney, and a Senior Research Fellow (Non- Resident) at the Japan Institute for International Affairs.
For more information, media are invited to contact:
Brett Byers
Communications and Digital Media Manager
613-482-8327 x105
brett.byers@macdonaldlaurier.ca