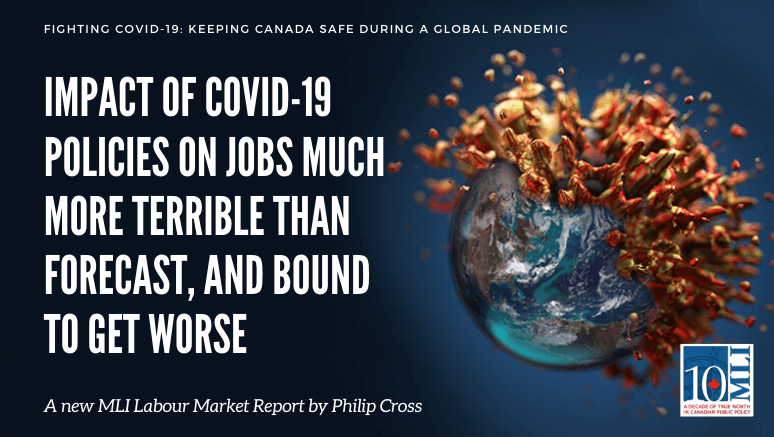 OTTAWA, ON (April 17, 2020): In March, Canada's labour market suffered its most significant setback in history. The economic impacts of COVID-19 have, in just one month, exceeded the total damage suffered during the recessions of 1981-1982, 1990-1992, or 2008-2009. Even still, the labour market impacts of our response to COVID-19 are not yet fully realized.
In a special MLI labour market report that looks at March rather than its usual quarterly focus, Munk Senior Fellow Philip Cross warns that economists and policy-makers alike have vastly under-estimated the costs of Canada's COVID-19 strategy on jobs, incomes, and the long-term debt.
"The increase in the headline unemployment rate to 7.8 percent does not capture how other Canadians were affected by the suspension of routine economic activities," explains Cross. He notes that, historically speaking, economic forecasts have routinely underestimated the impact of shocks such as the 2008 Financial Crisis, and the COVID-19 crisis is no different.
Economists had expected a decline of 500,000 jobs in Canada for March. However, the headline numbers were twice what was forecasted at 1.01 million job losses. Another 1.3 million Canadians said they still had a job but were unable to work, and a further 800,000 reported their hours of work were cut at least in half. In total, 3.1 million workers lost their jobs or all or most of their ability to work in March.
And much worse is yet to come. "The economy will not come 'roaring back' as Prime Minister Trudeau had predicted in either the short-term or the long-term," says Cross.
Cross warns that there is every indication the labour market will continue to deteriorate in the spring. Layoffs have intensified as the federal government announced a wage subsidy program to slow the rate of job loss, though rolling out the program will take weeks, if not months. As with the majority of the sluggish federal government response to COVID-19, delay could make it too late to save many businesses and their employees.
Available data has yet to fully reflect the impact on two sectors that will be severely affected by recent events: the oil patch and small businesses. Already, oil and gas firms are announcing cuts in the billions of dollars to investment and production. Meanwhile, the Canadian Federation of Independent Businesses found that 63 percent of members plan more layoffs and one-third are at risk of permanently closing.
Cross goes on to explain that the pandemic has also completely reversed the usual response of the goods and services sector as services collapsed first and the effect of falling demand will then extend upstream to producers of goods. This sudden loss in the service sector also will reflect in higher job losses for women than men.
Additionally, Canada's soaring public debt will be hard to support as constrained governments across Canada turn to the federal government for support while the federal deficit continues to soar. Cross argues that, at some point, the federal government will have to start refusing requests for aid and adopt austerity to curb its own debt.
There are also social implications stemming from an economic downturn that have yet to be considered. Young people could be hit the hardest as 250,000 graduates are facing a rapidly shrinking labour market where jobs are disappearing at a record rate. Other unintended consequences could include an increase in suicides, substance abuse, domestic violence, rising food prices, and the suspension of elective surgeries.
As Cross writes, "these unanticipated results of policies enacted during the crisis are an example of why John Cochrane said economics is best described as a collection of 'stories about unintended consequences.'"
Read the full labour market report here.
***
Philip Cross is a Munk Senior Fellow at the Macdonald-Laurier Institute. Prior to joining MLI, Cross spent 36 years at Statistics Canada specializing in macroeconomics, serving as the Chief Economic Analyst starting in 2008.
For more information please contact:
Brett Byers
Communications and Digital Media Manager
613-482-8327 x105
brett.byers@macdonaldlaurier.ca