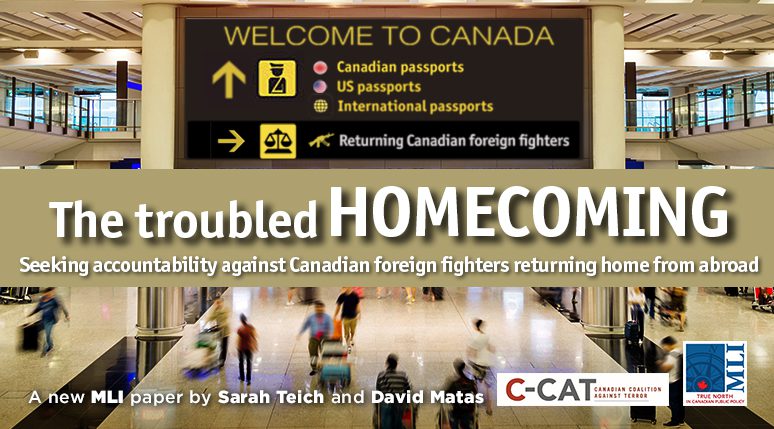 OTTAWA, ON (March 9, 2022): When Canadians leave to fight for terrorist groups like the Islamic State, inevitably some return home. How should these cases be handled? Who is responsible for ensuring that victims find justice? And what legal means do we have to punish and deter those who commit atrocity crimes abroad?
To address these questions, the Macdonald-Laurier Institute and the Canadian Coalition Against Terror have released a new joint publication titled "The troubled homecoming: Seeking accountability against Canadian foreign fighters returning home from abroad."
Ensuring that Canadian law and policy can hold foreign fighters who engage in atrocity crimes to account "requires an analysis of current law and policy tools, spanning criminal and civil law remedies," write authors Sarah Teich and David Matas.
However, the authors find that Canada's legal systems lack the tools to deal with foreign fighters. The current criminal and civil tools available to governments and victims leave exploitable gaps, and our legal approach to combatting terrorism has not kept up with the evolving nature of this threat.
For example, Teich and Matas find that Canada's laws may be too lax in terms of criminalizing certain terrorist activities. For instance, knowingly joining a terrorist group is not presently an offence under the Criminal Code. While terrorist financing abroad can be prosecuted by Canadian courts, conspiracies to commit terrorism offences or activities outside Canada cannot. The federal government can prosecute war crimes and crimes against humanity by foreign fighters, but the Department of Justice's War Crimes Section is too underfunded to prosecute effectively.
More generally, government policy lacks clarity when it comes to applying the laws on the books or adequately supporting private actors seeking justice. Taken together, this makes it more challenging to hold individuals who commit atrocity crimes abroad to account and, ultimately, weakens our ability to deter terrorism.
"Canadian lawmakers must ensure that our legal system is prepared, and that there is no impunity for fighters who were involved in serious wrongdoing," argue Teich and Matas. "The paper identifies gaps in the law and policy that Canadian lawmakers should address."
To read the full paper, click on the button below.

***
Sarah Teich is a senior fellow at the Macdonald-Laurier Institute and a legal advisor to the Canadian Coalition Against Terror. David Matas is a senior fellow at the Raoul Wallenberg Centre for Human Rights.
For more information, media are invited to contact:
Brett Byers
Communications and Digital Media Manager
613-482-8327 x105
brett.byers@macdonaldlaurier.ca