The Macdonald-Laurier Institute is delighted to announce the Great Canadian Debates, one of the can't-miss items on Ottawa's events calendar, are returning for another season.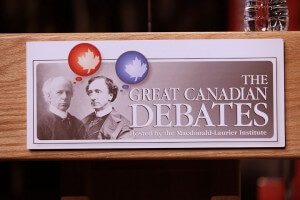 The 2015 edition of the GCD will feature yet another lineup of celebrated thinkers clashing over the most important issues facing Canada today.
The debates will be spread over three separate events taking place between March and May of 2015 at the Canadian War Museum in Ottawa.
This year's debaters are:
They'll be debating income inequality, the oversaturation of Canadian universities and the crisis of Canadian democracy.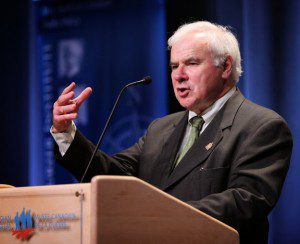 Former speaker of the House of Commons Peter Milliken will again be serving as moderator.
For a list of previous installments in the Macdonald-Laurier Institute's Great Canadian Debates series, click here.
Click here for a preview in French.
"Canadians should stop worrying about income inequality"
Frank Buckley vs Chrystia Freeland
March 31, 2015 – Click here to buy tickets
Everyone, it appears, is concerned about the middle class and income inequality. It seems a privileged few are making all the money, leaving the rest of us to fight over the scraps. Some would argue this will lead to social upheaval. They urge government to ensure that middle and lower income people share in a growing economy and put the brakes on skyrocketing incomes of the wealthy. Others argue that top earners are entitled to what they make and that their success is what drives the economy. They would also say that the fortunes of the middle class are better than advertised, and Canada's progressive tax system is effective at sharing the wealth. Should we be worrying about income inequality? Plutocrats author Chrystia Freeland argues against the resolution. George Mason professor Frank Buckley argues in favour.
"Too many Canadian kids are going to University"
Ken Coates vs Lloyd Axworthy
April 29, 2015 – Click here to buy tickets
University graduates have long been thought to have an enormous advantage both in terms of employment and wage prospects, and in becoming well-rounded citizens. Many parents would not accept anything less than a university degree for their child. But some observers believe that Canadian students are not being equipped with the skills they need to succeed in today's economy, and some would bluntly argue that too many kids who simply aren't cut out for university are filling up lecture halls to no one's benefit. Is it time to rethink the value of a university education? Ken Coates, author of What to Consider if You're Considering University argues in the affirmative. Former Winnipeg University president Lloyd Axworthy argues against the resolution.
"Canada's Democracy is in Crisis"
Andrew Coyne vs John Pepall
May 26, 2015 – Click here to buy tickets
With falling voter turnout, scandal in the Senate, powerless MPs and majority governments that have the support of fewer than 40 per cent of Canadians, many believe that Canada's democracy is in serious need of reform. Others would argue that these institutions have served us very well and the peace and prosperity we enjoy shows that Canada is well-governed. They warn that radical reforms will bring unintended consequences. National Post Comment Editor Andrew Coyne argues for the resolution. Against Reform author John Pepall argues against.