Latest event in a series hosted by the Macdonald-Laurier Institute to take place in Ottawa on April 29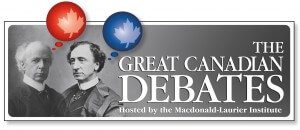 OTTAWA, April 27, 2015 – Are University degrees becoming devalued? Are our institutions still serving the needs of students preparing to enter a changing economy as well-rounded individuals?
Two of Canada's leading thinkers on post-secondary education will square off over the future of Canadian universities in the Macdonald-Laurier Institute's second Great Canadian Debate of 2015.
On April 29, Ken Coates and Lloyd Axworthy will debate the resolution: "Too many Canadian kids are going to university".
Ken Coates, a Macdonald-Laurier Institute Senior Fellow, will argue in favour of the resolution. Axworthy, a former President of the University of Winnipeg and former Canadian Foreign Minister, will argue against.
The event will be moderated by Peter Milliken, former speaker of the House of Commons.
Click here to buy tickets.
Where: The Canadian War Museum, 1 Vimy Pl., Ottawa, ON
What: The second Great Canadian Debate of 2015
When: April 29, 2015 at 7 p.m.
Who: Ken Coates and Lloyd Axworthy
This is the second debate in the 2015 series.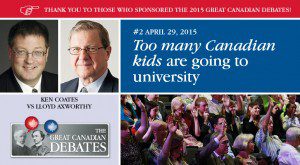 On March 31, Frank Buckley and Chrystia Freeland debated income inequality. On May 26, Andrew Coyne and John Pepall will debate whether Canada's democracy is in crisis.
For more information on this debate and others, click here.
***
The Macdonald-Laurier Institute is the only non-partisan, independent national public policy think tank in Ottawa focusing on the full range of issues that fall under the jurisdiction of the federal government. Join us in 2015 as we celebrate our 5th anniversary.
If you are a reporter interested in covering the debates, please contact Mark Brownlee, communications manager, at 613-482-8327 x105 or email at mark.brownlee@macdonaldlaurier.ca.