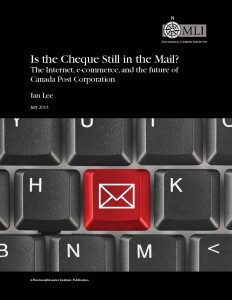 Globe and Mail columnist Konrad Yakabuski is echoing the work of Macdonald-Laurier Institute author Ian Lee in a column calling for the federal government to make more changes to Canada Post.
Yakabuski cites research from Lee's paper, "Is The Cheque Still In The Mail?", showing that Canadians are sending less mail than ever before even as the number of addresses Canada Post services increases.
The column also repeats many of Lee's recommendations, including:
Reducing the number of days on which mail is delivered to three;

Allowing Canada Post to close rural post offices;

Franchising standalone Canada Post offices.
Lee is also the author of an op-ed for the Financial Post that is based on his paper.