MLI paper explores the role of George Brown in the establishment of Confederation
OTTAWA, February 7, 2017 – The Macdonald-Laurier Institute is pleased to showcase the first paper of its Confederation Series.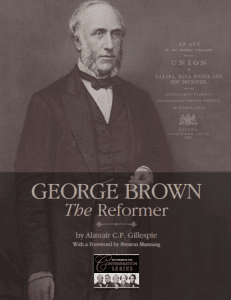 Authored by MLI Munk Senior Fellow Alastair Gillespie, with an introduction by former Reform Party leader Preston Manning, this paper offers a unique look at George Brown's role in the birth of Confederation. The paper traces Brown's 15-year campaign for constitutional change, the record of a spirited partisan who sacrificed his own career, and laid partisanship aside, to secure a new federal constitution for Canada.
To read the full paper, titled "George Brown: The Reformer," click here.
Brown's brief tenure (only two days) governing the Province of Canada in 1858, between successive administrations led by John A. Macdonald and George-Etienne Cartier, has often been criticized – as reflecting Brown's political failings compared to his opponents' long-term success.
Yet, as noted by Gillespie, the brief Brown-Dorion government should be remembered for being "first government of Canada committed to constitutional reform." In a noteworthy step toward Confederation, Brown softens his approach on the key issue of representation by population – by accepting the need for "checks and balances designed to protect French Canada from majority rule by the rest of Canada."
To Brown, a constitutional settlement was the only way to overcome the political dysfunction that marked the union of Upper and Lower Canada.
After Brown's exceedingly brief tenure as Premier, he showed great perseverance by continuing his constitutional campaign, and by 1860 was calling for a cross-partisan agreement to settle the constitutional question. As Gillespie concludes, "the zealous partisan now called for party allegiances to be put aside."
To Brown, a constitutional settlement was the only way to overcome the political dysfunction that marked the union of Upper and Lower Canada.
Extending an open hand, Brown's new non-partisanship culminated in Brown and Macdonald walking together into the House of Commons in 1864 to form the Great Coalition and, eventually, to carry Confederation together.
As Brown himself said at the outset of the Great Coalition, "I would have desired no greater honour for my children to keep years hence in their remembrance, than that I had a hand, however humble, in the accomplishment of that work."
The Brown paper will be followed (in order) by papers on Cartier, Galt, D'Arcy McGee and Macdonald.
To support the Confederation Series, MLI established The Confederation Project, an online resource to publish and collect the speeches featured in the papers. George Brown's Speech in the 1865 Confederation Debates can be downloaded here. Other speeches are also available on the Project webpage, with additional ones to be released over the next few weeks.
***
Alastair Gillespie is an MLI Munk Senior Fellow and a capital markets lawyer in the London office of a large New York-based international law firm. Prior to his legal career, Alastair was Special Assistant to the Hon. A. Anne McLellan, Deputy Prime Minister of Canada and Minister of Public Safety and Emergency Preparedness.
The Macdonald-Laurier Institute is the only non-partisan, independent national public policy think tank in Ottawa focusing on the full range of issues that fall under the jurisdiction of the federal government.
For more information, please contact Mark Brownlee, communications manager, at 613-482-8327 x105 or email at mark.brownlee@macdonaldlaurier.ca.