OTTAWA, ON (November 26, 2020): The COVID-19 pandemic, global economic factors, and domestic policy-making have combined with a devastating effect on Canada's energy industry. This comes at a crucial juncture for many First Nations communities who have only in recent years begun to experience prosperity from the development of oil and gas resources on their traditional lands.
In MLI's latest paper titled "Where we go from here: Indigenous prosperity at a crossroads," MLI Munk Senior Fellow Ken Coates examines the path forward for First Nations communities in the oil and gas sector. This is the second paper in a series on 'The Front Lines of Reconciliation.'
Despite well-publicized environmental protests, in large part, for Indigenous people today, the oil and gas sector has become "an economic zone marked by mutually beneficial relationships that link Indigenous people with non-Indigenous Canadians, domestic and international business, and the broader national economy," explains Coates.
Across the country, Indigenous prosperity lags consistently behind the economic outcomes of non-Indigenous Canadians. But oil and gas extraction and pipeline transportation offer significant opportunities for communities to not only develop own-source revenue, but to also provide substantial incomes for Indigenous workers in the industry. Coates finds that those communities with modern treaties and who participate in the natural resource economy are much more likely to score highly on indices of community well-being.
And yet, a great deal of progress still must be made. In particular, Indigenous communities lack meaningful access to capital, preventing many from participating in the sector as full partners or owners.
Furthermore, 2020 has seen a "dramatic, exceptionally fast, and economically painful" collapse in the Canadian energy sector, writes Coates. This threatens to erase many of the hard-won gains that Indigenous communities have come to rely upon.
Indeed, as explained by Dale Swampy, the President of the National Coalition of Chiefs, "many First Nations are facing an economic disaster if the federal government is not able to support the industry in its recovery."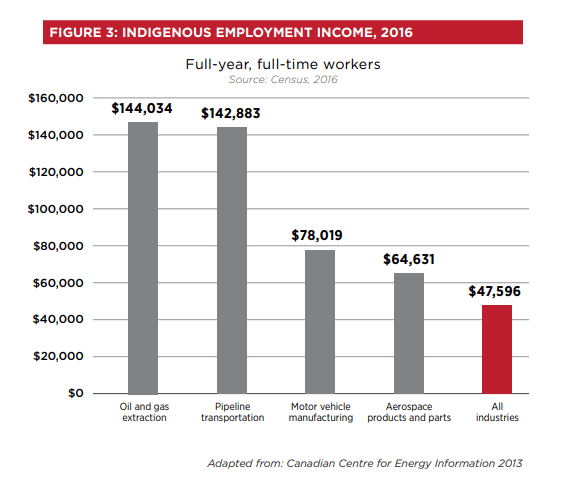 Despite these challenges, the paper suggests that the future for Indigenous prosperity depends upon access to opportunities in the natural resource economy.
"Oil and natural gas, plus the related infrastructure and processing projects, are the most logical, remunerative, and promising options" for many Indigenous communities, Coates explains. "Everything else lags well behind in employment and wealth-generating potential."
Coates provides a comprehensive set of recommendations for policy-makers through the short to long term that will continue to advance economic reconciliation. Some of these ideas include:
Accelerating energy infrastructure development and completing the Canadian energy infrastructure network;
Creating an Indigenous sovereign wealth fund;
Fostering economies of scale for Indigenous communities;
Providing financial support for major Indigenous investments;
Transforming Indigenous education and training; and
Integrating Indigenous and energy sector involvement into a national climate change strategy.
Ultimately, Coates urges media and public figures to refrain from seeing industry and Indigenous communities as diametrically opposed. Rather, "the road forward both requires and benefits from a strong Indigenous presence, one that accommodates and recognizes current and projected Indigenous involvement in the oil and gas industry."
To learn more about the future of Indigenous prosperity, read the full paper here.
***
Ken S. Coates is MLI's Munk Senior Fellow in Aboriginal and Northern Canadian Issues. He is the Canada Research Chair in Regional Innovation in the Johnson-Shoyama Graduate School of Public Policy at the University of Saskatchewan.
For more information, media are invited to contact:
Brett Byers
Communications and Digital Media Manager
613-482-8327 x105
brett.byers@macdonaldlaurier.ca