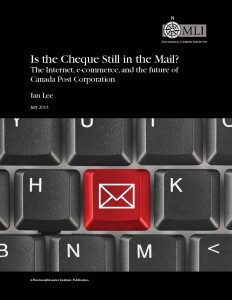 The Macdonald-Laurier Institute is highlighting its authors' work on some of the major public policy issues going into this year's federal election campaign. Today, Ian Lee examines how to reform Canada Post
OTTAWA, July 29, 2015 – Canada Post's recent decision to end door-to-door delivery has sparked an ongoing debate: What should be done to deliver sustainability to Canada's national mail carrier?
Both the Liberals and the NDP have promised to reinstate door-to-door delivery service, placing the debate about Canada Post in the centre of the upcoming federal election campaign.
In a July paper for the Macdonald-Laurier Institute, Carleton University business professor Ian Lee outlines the major issues facing Canada's beleaguered mail carrier.
To arrange an interview with Ian Lee, please contact Mark Brownlee, communications manager, at 613-482-8327 x105 or email at mark.brownlee@macdonaldlaurier.ca.
While it will be up to the parties to argue over what to do about Canada Post, one thing is clear: Canada Post will need to make major changes if it doesn't want to be a big drain on government revenues. The reason? Canadians are sending much less mail than in past years, a trend that is bound to continue.
Between 2006 and 2013, the volume of mail per address dropped 30 per cent even as the number of addresses grew by 1.3 million. The growing use of the Internet for communication and financial transactions will only reduce this further, Lee predicts.
Lee says ending door-to-door delivery should just be the start. "Is The Cheque Still In The Mail?" also urges Canada Post to:
Reduce the number of days on which mail is delivered from five to three: Receiving mail five days a week is no longer necessary in a world where people are sending fewer letters and packages.
Franchise rural post offices: Standalone post offices are a big drain on resources. Canada Post should do as it has done in many cities and incorporate postal outlets into existing businesses.
Eliminate Canada Post's monopoly on mail delivery: Opening mail delivery up to competition will help to encourage innovation and structural change at one of Canada's oldest institutions.
Don't privatize Canada Post: This will not fix the corporation's structural problems and the business model is so poor that no private sector organization would want to take it on anyway.
Consolidate mail processing plants: The amount of mail sent is only going to continue to decrease in the future, so there is little reason for CPC to maintain the 21 processing plants currently working across the country.
Deregulate CPC pricing for letter mail: CPC customers currently do not pay the true cost of sending mail. CPC should not have to appeal to the government to set the price of stamps.
***
Ian Lee teaches strategic management at Carleton University's Sprott School of Business.
The Macdonald-Laurier Institute is the only non-partisan, independent national public policy think tank in Ottawa focusing on the full range of issues that fall under the jurisdiction of the federal government. Join us in 2015 as we celebrate our 5th anniversary.
For more information, please contact Mark Brownlee, communications manager, at 613-482-8327 x105 or email at mark.brownlee@macdonaldlaurier.ca.