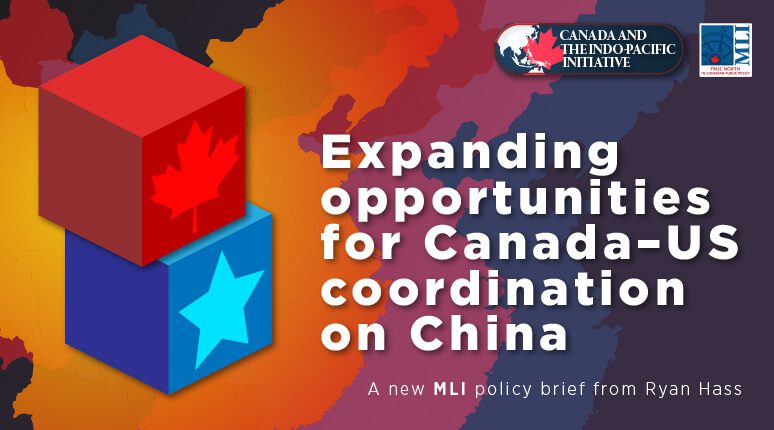 OTTAWA, ON (March 17, 2021): In recent years, US-China strategic competition has ramped up. While US President Joe Biden may cool the temperature somewhat, he has also promised to take a more multilateral approach in pushing back against problematic behaviour from Beijing.
But where does this leave Canada?
In a new MLI commentary titled "Expanding Opportunities for Canada-US Coordination on China," Ryan Hass takes stock of how this change in US leadership represents an opportunity for Washington and Ottawa to act on a shared agenda with respect to China.
"As one of America's most valued friends and trusted partners, Canada will have an outsized role in helping Washington identify what Chinese actions should be prioritized for pushback," argues Hass.
America's approach to China focuses on rebuilding leverage by investing in alliances, reestablishing US leadership on the world stage, and more. With a less combative and more trusted partner in Washington, Canada has even greater opportunities to finally match our foreign policy to our interests vis-à-vis China.
Hass finds that there is considerable common ground and political appetite on both sides of the border for cooperation on a number of issues related to China, including "human rights concerns, Xinjiang, Hong Kong, problematic Chinese economic practices, maritime issues, and concerns relating to Chinese efforts to act extraterritorially."
This commentary represents the first in a series of policy briefs under MLI's Canada and the Indo-Pacific Initiative, which will examine the crucial role played by the Indo-Pacific and lay out the challenges facing Canadian policy-makers as they assess our strategic interests in the region.
"This important new project will look at this pivotal region which has become a centre of geoeconomic and geostrategic gravity. Indeed, the true litmus test for the rules-based order will be its ability to evolve and withstand the challenges in the Indo-Pacific in the coming years," notes MLI Program Director Jonathan Berkshire Miller in a primer outlining the major themes and goals in this series of publications.
"China's increasing assertive posture in the maritime realm is of deep concern, in addition to its predatory lending practices and coercive diplomacy. As Canada looks to develop its approach to the region, managing the challenge posed by Chinese activities is a significant – but not all encompassing – consideration."
To learn more about China's strategic competition and the role that Canada has to play, read the full commentary here.
Find out more about the Canada and the Indo-Pacific Initiative here, or read the briefing primer on this publication series here.
***
Ryan Hass is a senior fellow and the Michael H. Armacost Chair in the Foreign Policy program at Brookings. He is also the Interim Chen-Fu and Cecilia Yen Koo Chair in Taiwan Studies.
For more information, media are invited to contact:
Brett Byers
Communications and Digital Media Manager
613-482-8327 x105
brett.byers@macdonaldlaurier.ca