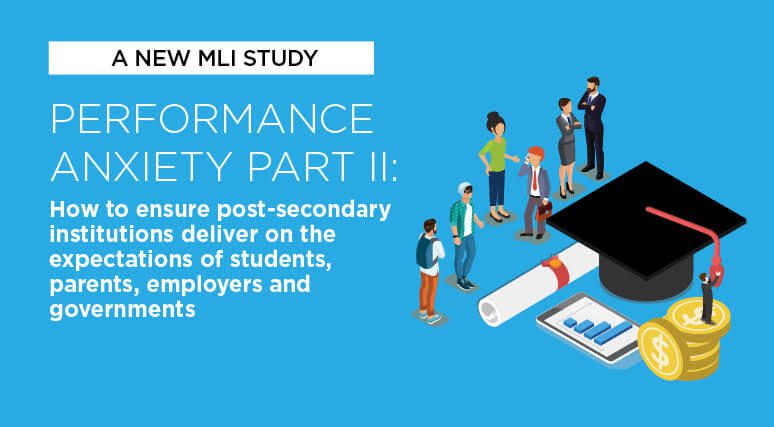 OTTAWA, ON (November 30, 2018): Universities, colleges, and polytechnic institutions are at the forefront of preparing our workforce with the knowledge and skills necessary for the future economy. But how do we know whether these institutions are delivering on this important task? Do Canada's post-secondary institutions adequately prepare students for the real world?
As it stands, neither the Canadian government nor public have access to detailed information about post-secondary institutions' victories and failures. But it doesn't have to be this way. A new MLI report, titled Performance Anxiety II: How to ensure post-secondary institutions deliver on the expectations of students, parents, employers, and governments, seeks solutions to this information gap. The report is the second in a series examining the strengths and weaknesses of post-secondary education in Canada.
According to report authors Douglas Auld and Ken Coates, the lack of any clear evaluation scheme for gauging the success of post-secondary institutions stands as a major impediment when it comes to not only understanding, but also improving the system.
"Canada's post-secondary system has formidable strengths and significant challenges," write Auld and Coates. "Everyone, from students and parents to employers or graduates to university administrators and government officials needs, a better way to evaluate the success or failure of post-secondary institutions to meet [its] challenges."
As Auld and Coates argue, while Canadian post-secondary institutions regularly advertise their good news, they fail to publicize "high drop-out rates, low post-graduation employment and poor salary outcomes in certain fields, let alone the comparative effectiveness of institutions."
Employing Ontario as a case study, the authors discuss the timely issues of balancing the needs for increased investments in education set against the need for budget discipline. This is particularly timely given the Ford government's decision to reverse major planned investments in new campuses, and a French University, in the province.
"With budget pressures mounting, it is necessary to focus on value for money and what priorities best position Canada in the modern economy, rather than simply expanding university spaces," write Auld and Coates.
Extrapolating from Ontario's experience, the report makes six key recommendations on a national level:
Fix the fragmentation of information and analysis. The provincial, federal, and territorial governments should produce a single, standardized evaluation system for universities.
Determine an appropriate evaluation metric to define the ability of individual institutions to add value to the students enrolled in the university, college, or institute, and account for the needs of disadvantaged students.
Monitor student career outcomes nationally, regardless of the level of post- secondary education and the student's ability to complete a specific program. This information should be publicly available and interactive.
Develop metrics to determine the value of research and teaching on commercialization and economic development. The current system focuses primarily on inputs (like research grants) and proxies for outputs (such as patents or number of people trained). Society needs to know who is succeeding at converting research funding into businesses and jobs.
Develop a similar measure for the social, cultural, and political impact of social science and humanities research.
Create evaluation systems that recognize the sharp differentiation in purpose, mandate, and environment between the country's various universities, polytechnics, and colleges.
And six recommendations for Ontario:
Remove the link between key performance indicators and funding.
Do a better job of measuring learning and career outcomes, the impact of research and outreach efforts, and institutional financial performance.
Collect data every three years rather than annually.
Make learning and research goals central to strategic mandate agreements between the province and institutions (SMAs).
Make better use of professional organizations and college program advisory committees to evaluate programs.
Have the Higher Education Quality Council of Ontario develop a system-wide test of the development of key skills for students. Leave the important task of program review to the Ontario University Council on Quality Assessment.
"Canadian taxpayers, students, and their parents pay billions of dollars each year to support the country's colleges, universities, and polytechnics," write Auld and Coates. "They deserve to have accurate, timely information about whether that investment is paying off."
To learn more about how to ensure that post-secondary institutions are delivering on their promises to Canadians, check out the full report here.
***
Douglas Auld is an adjunct professor in the department of Economics and Finance at the University of Guelph. He chaired the University of Guelph Senate Committee on Academic Priorities and has served as president and chief executive officer of Loyalist College and Vice President of the college system Committee of Presidents
Ken S. Coates is a Munk Senior Fellow at the Macdonald-Laurier Institute and Canada Research Chair in Regional Innovation in the Johnson-Shoyama Graduate School of Public Policy at the University of Saskatchewan. He is the author and co-author of numerous books including Campus Confidential: 100 startling things you didn't know about Canadian universities and What to Consider When You're Considering University.
For more information please contact:
David Watson
Managing Editor and Communications Director
613-482-8327 x103
david.watson@macdonaldlaurier.ca