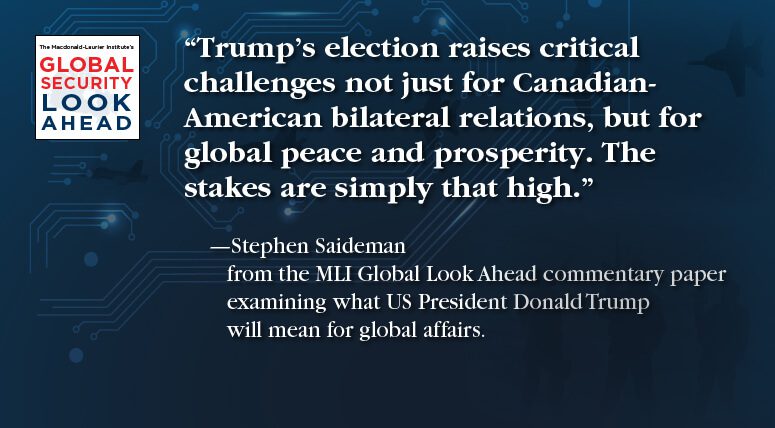 Canadian-American bilateral relations – not to mention global peace and prosperity – are up in the air now that Donald Trump is the United States' president
OTTAWA, Jan. 25, 2017 – A bumpy ride is the best Canadians can hope for from the Donald Trump presidency.
Stephen Saideman, in a new commentary for the Macdonald-Laurier Institute, lays out the challenges Canada will face now that Trump has been sworn in as president.
Concerns about what Trump will mean for the future of NATO, foreign trade and global financial markets will dominate the next four years.
"Trump generates uncertainty", writes Saideman. "Because of his disregard for the norms of American politics, because of his habit of switching positions and because he is not tied to any constituency…Trump's election raises critical challenges not just for Canadian-American bilateral relations, but for global peace and prosperity.
"The stakes are simply that high".
The commentary is the second entry in MLI's "Global Security Look Ahead", a six-part series of commentaries exposing the major security issues Canada is facing around the globe.
To read the full commentary, click here.
***
Stephen M. Saideman is the Paterson Chair in International Affairs at Carleton University.
The Macdonald-Laurier Institute is the only non-partisan, independent national public policy think tank in Ottawa focusing on the full range of issues that fall under the jurisdiction of the federal government.
For more information, please contact Mark Brownlee, communications manager, at 613-482-8327 x105 or email at mark.brownlee@macdonaldlaurier.ca.