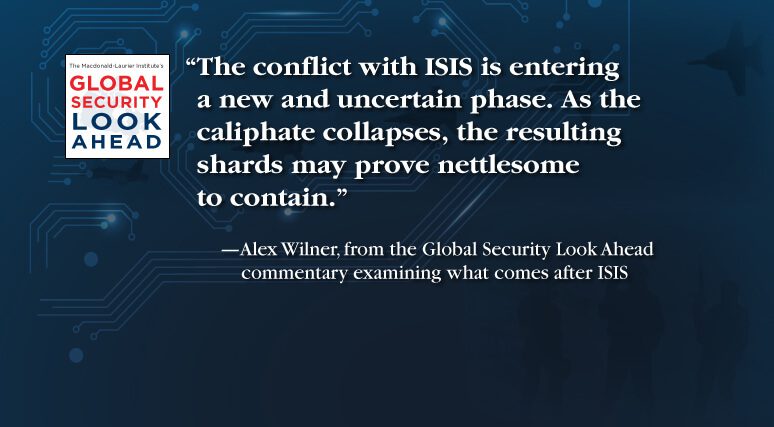 Nation-states will need a plan for foreign fighters and recruits after ISIS's imminent collapse
OTTAWA, Feb. 15, 2017 – The defeat of ISIS, the terror group spreading chaos across the Middle East, is close at hand. Now, what comes next?
Munk Senior Fellow Alex Wilner, in a new commentary for the Macdonald-Laurier Institute's Global Security Look Ahead series, argues the caliphate's collapse will create new counterterrorism challenges in the months and years to come.
"With ISIS facing near certain strategic defeat in the coming year, attention must now be paid to anticipating what the caliphate's territorial collapse will mean to the remaining surviving foreign fighters and recruits", writes Wilner.
One challenge in particular stands out, says Wilner: ISIS foreign fighters and recruits, uprooted from their caliphate, may be especially motivated and prepared to spread mayhem abroad.
This is especially true given the astounding success of ISIS's recruitment efforts. Since 2011, American intelligence agencies estimate that 40,000 foreigners from over 100 countries have travelled to Syria and Iraq.
Wilner says there are five likely scenarios for ISIS recruits once the organization is defeated:
Leave the battle altogether, turning their backs on terrorism for good.

Stay in Iraq and Syria following ISIS's defeat, re-establishing themselves as another terrorist or insurgent organization.

Join the ranks of other militant groups already active in the region, including Al Qaeda's most prominent franchise, Jabhat Fatah al-Sham (formerly known as Jabhat al-Nusra) in Syria.

Travel abroad to establish or strengthen militant offshoots in Jordan, Tunisia, Saudi Arabia, and elsewhere.

Establish terrorist cells and networks within their home countries as ISIS's foreign legion. We can expect more attacks like the 2015 and 2016 attacks in Paris and Brussels.
To read the full commentary, titled "Defeating ISIS Is Just The Beginning", click here.
***
Alex Wilner is an Assistant Professor of International Affairs at the Norman Paterson School of International Affairs (NPSIA), Carleton University, and a Munk Senior Fellow at the Macdonald-Laurier Institute.
The Macdonald-Laurier Institute is the only non-partisan, independent national public policy think tank in Ottawa focusing on the full range of issues that fall under the jurisdiction of the federal government.
For more information, please contact Mark Brownlee, communications manager, at 613-482-8327 x105 or email at mark.brownlee@macdonaldlaurier.ca.